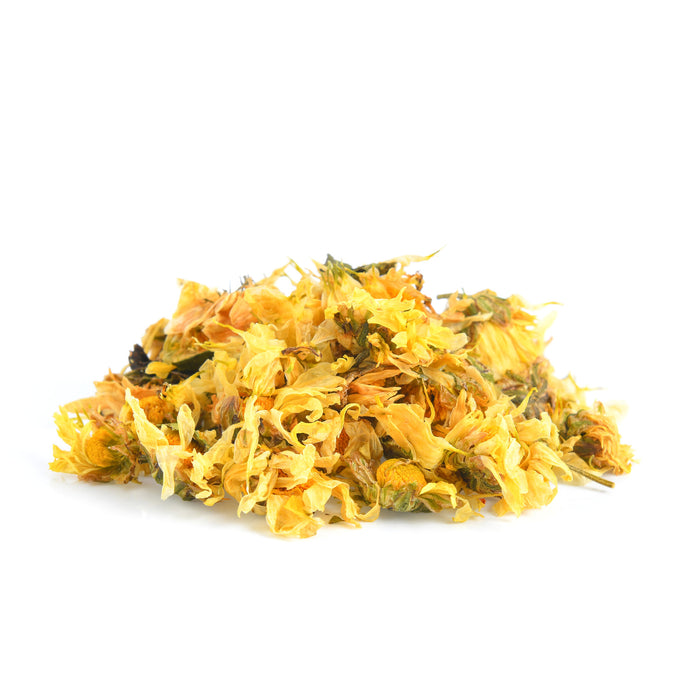 Chrysanthemum Flower - 75GM
Sold out
Original price
$0.00
-
Original price
$0.00
Chrysanthemum morifolium
Chrysanthemum has been used for hundreds of years in Traditional Chinese Medicine. Used for natural dyeing producing a beautiful natural yellow. Common medicinal benefits include: a nerve relaxant, improved heart health, skin health, antioxidant, anti-aging, anti-inflammatory, high in Vitamin C and A, said to prevent osteoporosis, improve vision.
Chrysanthemums are beneficial in skin care as they are not only anti-inflammatory they can act as an anti-irritant similar to aloe vera. A natural astringent when used in an extraction or even boiled. The flowers have also been used in hair care products to help encourage fast growth and reduce hair loss.
TRY: Combining with dried cinnamon bark, myrrh resin and chamomile flowers for a dried loose-leaf incense for protective energy. In ancient times Greeks would wear garlands of chrysanthemums to stave off evil energy and spirits. 


Our Chrysanthemums are grown in China and have undergone extensive testing to ensure its high quality.

Recommended for skin care, cosmetics, soaps and wellbeing.

Care Instructions: Do not ingest (we're not haccp certified so we can't sell this as a food product, yet)

Chrysanthemums eases skin inflammation, anti-oxidant, astringent