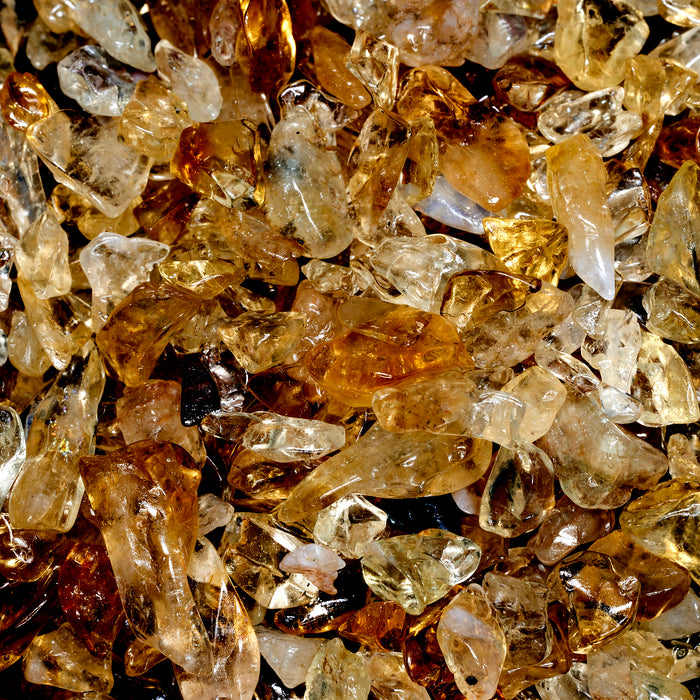 Citrine Crystal Chips - 100GM
Sale
Sale
Original price
$11.00
-
Original price
$11.00
Citrine is part of the quartz family, and its golden yellow colour is due to the presence of iron which is why it can be bright yellow or golden or soft brown in colour. Citrine has a hexagonal structure and a smokey or cloudy hue. Dating back to 300BC are the first recorded events of interaction with Citrine as a jewel and this tradition has long since been passed down through the ages.

Cosmetic
Citrine is a regenerator and a cleanser, which metaphysically is useful for cleansing other crystals and spaces, it also has its purpose for acting as a cleanser in skin care regimes. Its presence in skin care products have been said to draw out toxins, and balance the skins energy. Citrine warms and uplifts so its energy has the same effect on the skin.
Meditation
Citrine is said to be a stone of manifestation, imagination, and personal will. Its frequency increases or awakens imagination and can help to sustain the process of transforming ideas and desires into an achievable tangible form. Citrine encourages the newness of things and as thus, is a beautiful offering for new life, new mums, new ventures and new relationships. Citrine is regarded as a money stone and we recommend placing on your desk, in places of work or in places where intentions result in wealth. Also try using in a good fortune roller bottle with a neutral carrier oil like Sunflower or Almond Oil with a few drops of herb essential oils such as Sage, Rosemary or even our Warrior Blend.
Wellness
Citrine is said to hels to regulate the thyroid, digestive and circulatory systems, as well as keeping allergies and skin irritations at a minimum. Citrine enhances physical stamina and energy, supports the endocrine system. 
Care
A powerful cleanser and regenerator, citrine is a crystal that never needs cleansing. Just let them be.
Origin - Brazil, Uruguay, China
Our Citrine Crystal chips are mined in Brazil, Uruguay and China. 

Recommended for rollers and meditation bowls.

Uplifting, cleansing, detoxifying