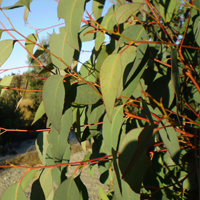 Eucalyptus Strawberry Gum Oil - Australia
Sold out
Original price
$25.00
-
Original price
$61.00
Eucalyptus olida
Eucalyptus Strawberry Gum Oil is as unique and complex as it sounds. This wild threatened species is cultivated privately for essential oil production. Leaves and twigs are farmed using conventional methods and then steam distilled to extract a crystal-like oil that will develop small crystals under 40 degrees. 
To use, because trust us, the effort is worth it, simply immerse the jar (lid on) into a hot water bath until it become liquid again. Then once you have added your oil to a diffuser, or into a carrier oil or blend it will remain at liquid state.
The oil's aroma delivers the menthol that you'd expect from a Eucalyptus oil but smells predominantly of sweet strawberry and spicy cinnamon. Though it may be unusual, the fact that it is layered with so many notes makes it an easy oil to blend with and is used in perfumery and fragrance production. 
Eucalyptus Strawberry Gum Oil is primarily used for its fragrance, but it is also used in DIY recipes as a source of antioxidants and for its antibacterial and antiseptic properties.
Eucalyptus Strawberry Gum Oil is extracted from plants grown on Gundungurra land, Australia and has undergone extensive testing to ensure its high quality.

Recommended for blends, burners, soaps and candles. Blends well with Australian Oils such as Rosalina, Eucalyptus Peppermint Gum and Lemon Myrtle.

Care Instructions: Not recommended for ingestion. Do not apply neat to the skin. If crystals form, they can be diffused with an oil burner or brought to liquid over a gentle heat to dissipate.



Eucalyptus Strawberry Gum Oil may be anti-bacterial, anti-septic and rich in antioxidants.