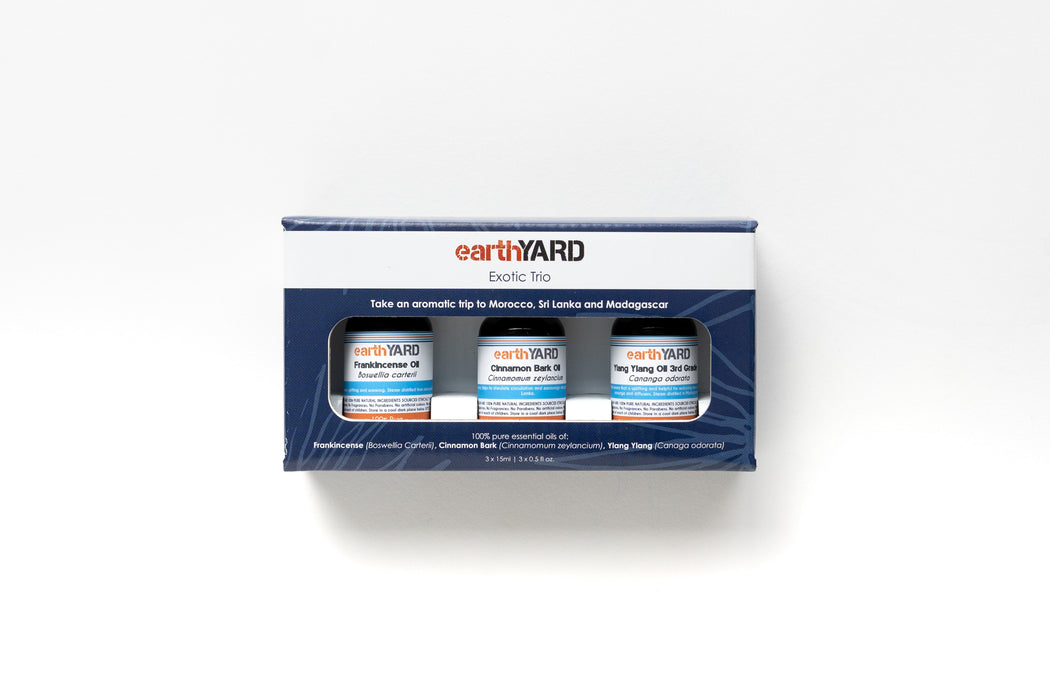 Exotic Gift Pack
Sold out
Original price
$28.00
-
Original price
$28.00
Get whisked around the world at a moment's notice by adding a few drops of our Exotic Trio to your diffuser. Our Frankincense Oil has a sweet and spicy aroma that is reminiscent of delicious balsamic. Its warming and uplifting properties will transport you to the warmer climes of its country of origin – Somalia – with the added benefit of giving your immune system a boost.

To escape to Sri Lanka, add a few drops of Cinnamon Bark Oil to your blend. The warming and slightly spicy aroma may help to promote circulation, healthy immune function and feelings of strength.

The distinctly deep, sweet and exotic floral scent of Ylang Ylang is commonly used in perfumery. It's hard not to enjoy the cheerful aroma! A whiff of Ylang Ylang will help to alleviate stress and anxiety by transporting you to the tropical forests of Madagascar, where Ylang Ylang is grown.
1 x 15ml Frankincense Oil 
1 x 15ml Cinnamon Bark Oil
1 x 15ml Ylang Ylang Oil 3rd Grade
Frankincense Oil (Boswellia Carterii) is a sweet and balsamic scented oil that is warming and uplifting. It is useful for stabilising and stimulating the brain as well as protecting the skin against ageing. Frankincense works to boost the immune system making it essential for protecting against winter colds. Frankincense is a beautiful oil that is popular in perfumery and blends.
Cinnamon Bark Oil (Cinnamomum zeylancium) has a woody and warming cinnamon scent linked to feelings of romanticism and strength. It is believed to help boost immune systems and stimulate circulation. Cinnamon Bark can help to strengthen immunity and reduce elements of depression. This bark oil is useful in massage to alleviate muscle spasms and aches.
Ylang Ylang Oil (Canaga odorata) is an exotic, deep and sweet floral scent that is highly sought after in perfumery. It has a very addictive aroma that is hard to not enjoy. Ylang Ylang 3rd is produced as a result of the third part of distillation. It is helpful for anxiety and stress as well as just producing a cheerful atmosphere.