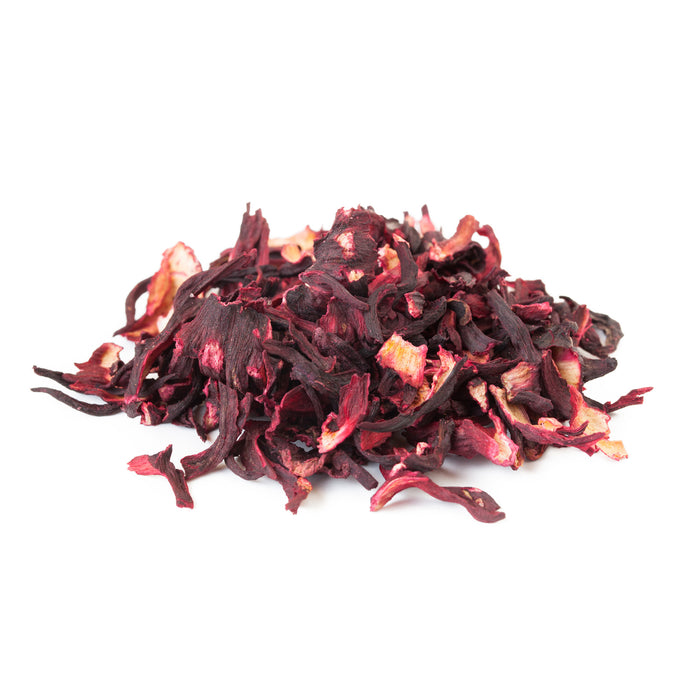 Hibiscus Flower - 75GM
Sold out
Original price
$0.00
-
Original price
$0.00
Hibiscus sabdariffa
Hibiscus or Rosella is the ultimate flower of passion. Hibiscus is a flowering plant in the Malvaceae family. Rich in vitamin C, minerals and various antioxidants, common health benefits include: blood pressure management, menstrual pain, antidepressant, digestion aid, anti-bacterial and anti-inflammatory. 
Cosmetically Hibiscus has been used to assist the reduction of dandruff and hair loss. It is also making a strong case in skin care products to address elastin degradation, improve moisture retention and reduce pores. 
Burn red hibiscus flowers as incense to increase the passion in the room. Sleep with hibiscus next to or under your pillow in order to improve the chances of prophetic dreams. 
TRY: Infusing these crushed flowers into purposefully selected carrier oil filled face rollers for a very pretty and active daily skin care quickly.
Our Hibiscus flowers are harvested and crushed from plants grown on Yidinjdji country and have undergone extensive testing to ensure its high quality.

Recommended for Skin care, wellness and soaps.

Care Instructions: Do not ingest (we're not haccp certified so we can't sell this as a food product, yet)

Stimulates hair growth, promotes passion, anti-inflammatory, moisturising