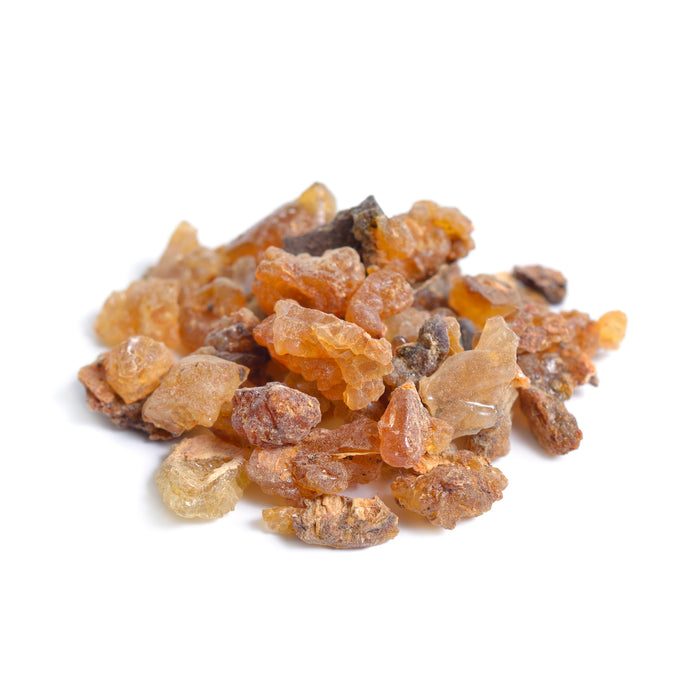 Myrrh Gum
Sold out
Original price
$0.00
-
Original price
$0.00
Commiphora myrrha
Myrrh oil, extracted from the tree gum or resin, has been used as traditional medicine since 1550 BC. Historically, Myrrh has been used in ointments to treat wounds, in perfumery and as incense. It is still used in natural therapies around the world as it contains properties that may assist with healing skin infections and eczema. It may also help to boost immune systems and strengthen skin and gums.
Historically Myrrh, like Frankincense makes an appears in many religious texts from all ancient faiths. In some forms of Eastern medicine, myrrh is used for its restorative properties. The scent is said to boost the spirit and the soul, and is often used to alleviate the symptoms of nervous system disorders such as anxiety and depression. 
Associated with purification and cleansing we recommend burning Myrrh resin over coals as part of a house cleansing ritual or for simply purifying spaces for intention setting. 
TRY: Adopting myrrh resin in cold pressed soaps or swapping myrrh oil for myrrh resin in your home oil burner.
Our Myrrh resin is sustainably extracted from purpose grown Myrrh trees in Somalia and has undergone extensive testing to ensure its high quality.

Recommended for skin care, soaps and wellbeing.

Care Instructions: Do not ingest (we're not haccp certified so we can't sell this as a food product, yet)

Grounding, spiritual, anti-bacterial, anti-septic