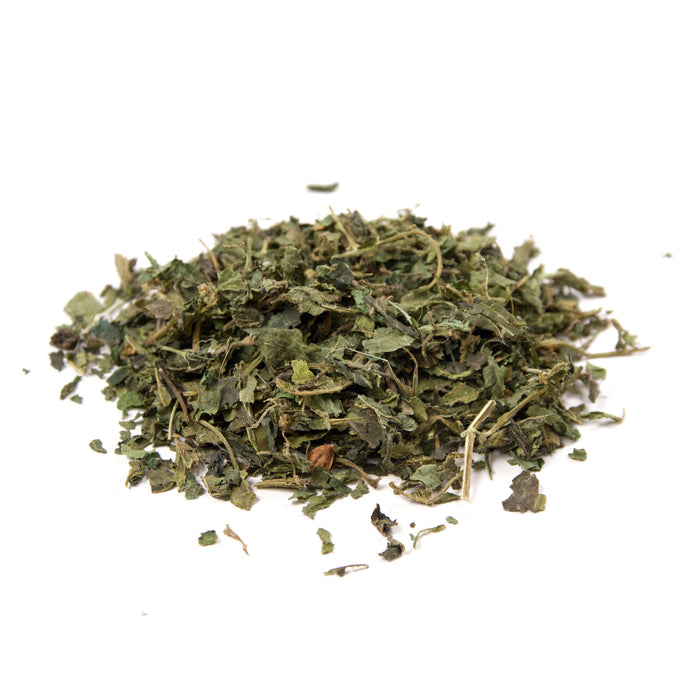 Nettle Leaf 100GM
Sold out
Original price
$0.00
-
Original price
$0.00
Urtica dioica
Nettle leaf is a natural astringent that can help to tighten and firm the skin. Further it can help to regulate natural sebum production and treat acne. Burning Nettle Leaf can strengthens constitution, increase energy, and combat fatigue. Nettle leaf is also useful for settling an over active emotional state. Sprinkle Nettle leaf around the outside of your home to stave off negative energy.
Nettle leaf can stimulate the healing process of skin conditions and wounds when applied topically through a salve, balm or ointment.
TRY: Boiling nettle leaf and let steep for 4-5 minutes like you would a tea before cooling and adding to our Base Lotion or Shower Gel. Alternatively, a super simple quick balm can be made using the following: 50gm Nettle Infused in Sunflower Oil (infuse for 3 days before straining out the botanical), 50gm Calendula in Sunflower Oil, 18gm Beeswax, 2-3 drops Tea Tree Oil, Nerolina Oil or Niaouli Oil. Melt the beeswax then add the infused sunflower oils once the beeswax has cooled to below 60 degrees. If adding essential oils wait until 40 degrees before adding. Mix and pour into a jar to set.


Our Nettle leaf is grown and harvested in Italy and has undergone extensive testing to ensure its high quality.

Recommended for skin care, cosmetics, soaps and wellbeing.

Care Instructions: Do not ingest (we're not haccp certified so we can't sell this as a food product, yet)

Reduces tiredness, negative energy, astringent,  anti-inflammatory