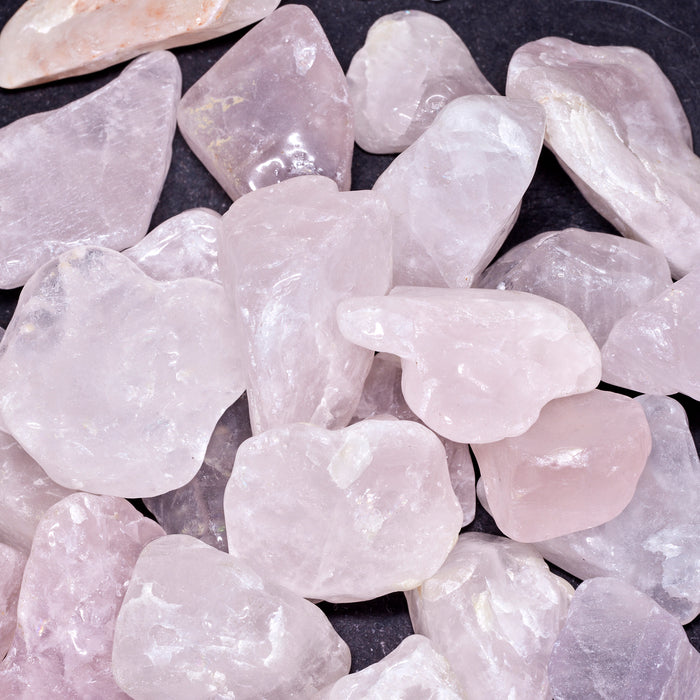 Rose Quartz Chips - 100gm
Sale
Sale
Original price
$6.00
-
Original price
$6.00
Dating back to the Assyrian period of 800BC as a stone used in jewellery, this crystal has been prominent in era after era. The Rose Quartz takes its name from the pale pink colour and from the Greek word Hyalos which means glass. Mythologically linked to whimsical gods and goddesses of history like Aphrodite and Adonis.

Cosmetic
Renowned for centuries long use for its healing powers, rose quartz is lifting its game in skincare regimes around the world. Used non-invasively to minimise wrinkles, redness and fine lines. As well as relieving tension. You might have seen Rose quartz facial rollers hit the markets in recent years but did you know that rose quartz is making a presence in cosmetics? From crushed quartz powder in face creams to natural oil infused rollers. Rose quartz is a must-have for a natural home care program. Rose quartz is said to increase lympathic drainage which can brighten and tone skin. It can also accelerate skin cell regeneration, boost circulation, eliminate toxins and help skin care products to reach deeper dermal layers. What's not to love about rose quartz.
We recommend getting creative with our Rose quartz crystals chips and infusing these crystals into a facial oil using your favourite carrier oils.
Meditation
Rose quartz crystals are often used in helping the heart heal from the pain or trauma left from deep emotional wounds. Further, Rose quartz helps one to find a deep sense of connection and compassion whether it be with a lover, spouse, child, or most importantly, oneself.
Wellness
Linked to the heart chakra and commonly referred to as the 'love stone,' Rose Quartz can promote compassion and peace. It's also a powerful healing stone that can help to increase self-love, ease tension and ward off negative emotions. Like a big warm hug, keep Rose Quartz close to the body or by your bedside. A gorgeous heart healer, Roses quartz crystals have been used in pregnancy by mothers to be to help protect the unborn child with thanks to its strong feminine energies.
Care
Like all crystals, Rose Quartz needs proper care and regular cleansing rituals. Some simple methods include:
1) Immerse in salt water overnight
2) Expose to rain water for 5 minutes
3) Leave under a full or waning moon overnight
4) Smudge with sage or eucalypt smoke
5) Use your personal energies if you're up to it to cleanse and clear any stored negativities
Origin - Brazil, USA
Our Rose Quartz Crystal chips are mined in Brazil and the USA. 

Recommended for rollers and meditation bowls.

Compassion, healing, warmth, anti-ageing, purifying