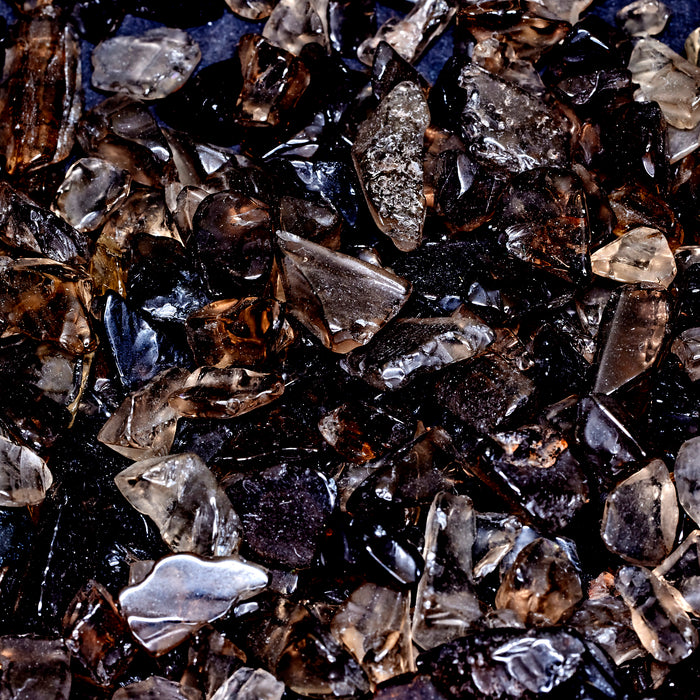 Smokey Quartz Crystal Chips - 100gm
Sale
Sale
Original price
$7.00
-
Original price
$7.00
Smokey quartz is a variety from the quartz crystal family with dark-black smoky colour ranging from translucent grey to brownish-grey, to black, to transparent. This beautiful and mesmerising crystal represents grounding, letting go, and surrendering old wounds.
Cosmetic
Smokey quartz is able to assist the release of stagnant and undesirable energies and to detox the stressful layers of your life. Including those attached to the skin.
Meditation
Smokey quartz can guide you to a higher state of being, a place where you can let go of the past so that it makes you better, not bitter. Keep this powerful stone close by and discover the clarity to lead you forward, the negativity holding you back, and the path that leads to wisdom. If you are intune with your inner psychic abilities, keeping smokey quartz nearby during practice will help to protect you from negative energies and avoid blockages.
Wellness
Smokey quartz is an excellent grounding stone. It gently neutralises negative vibrations and is detoxifying on all levels, protecting against radiation and electromagnetic smog, this is a handy crystal to keep in a meditation or buddha bowl by your computer or in your kitchen. Smokey quartz crystals offer stability during times of adversity is closely associated with the Root Chakra. We recommend keeping Smokey Quartz in high traffic areas of your home to keep your home's energetic field vibing high with clarity and purpose. 
History
Smokey quartz is rich in legend and ancient appreciation. Being the national gem of Scotland, Scottish lore recounts how Druids forged connections to the higher powers of the natural and spiritual realm. In mythology, the stone is also associated with the ancient Greek goddess, Hecate representing the powers of the Earth-bound gods and goddesses.
Care
As smokey quartz absorbs a lot of negative energy from your surroundings it is important to maintain good care by offering a thorough cleansing regularly. Cleansing and caring for your crystals should be a regular ritual that helps you release built up energies and prepare for coming days. Our favourite easy methods of cleansing crystals include:
- Placing out in a full moon - a long duration of direct moonlight is best and remember to bring these in before too long in the day as exposure to a lot of sunlight can reduce a crystals capacity to operate.
- When no moonlight is available immersing crystals in salt also works very well
- Smoke rituals with a smudge stick can help to cleanse crystals, simply use a eucalypt or sage smudge stick and waft over the crystals
- Meditation and intention for those ready to direct their personal energy to cleansing crystals is also very effective
Origin - Brazil, Australia, USA
Our Smokey Quartz Crystal chips are mined in Brazil, Australia and the USA. 

Recommended for rollers and meditation bowls.

Detoxifying, grounding, spiritual protection