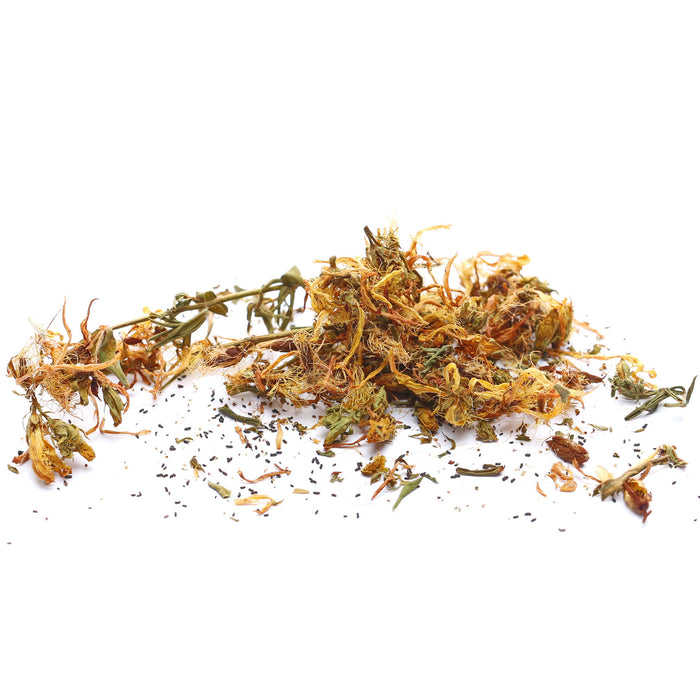 St John's Wort 75GM
Sold out
Original price
$0.00
-
Original price
$0.00
Hypericum perforatum
St John's Wort is ALL the anti's. Anti-inflammatory, antiviral, anti-fungal, antibacterial and well as astringent, analgesic and and a powerful herb to help the nervous system. Commonly used decrease irritability, depression and anxiety, St John's Wort can also aid in the treatment of insomnia and stabilizes emotions. 

Topically St John's Wort is used in salves and creams to treat burns including sunburn, wounds and abrasions and is best adopted in extracts or infusions. However, St John's Wort can be highly irritating to sensitive skin and is known as a photodermatitis inducer meaning skin may be overly vulnerable after use under direct sunlight.

When used in intention setting St John's Wort works well in banishing negative and evil presences, settling moods and emotions and combatting depression. 
Our St John's Wort leaves are grown and harvested in Serbia and have undergone extensive testing to ensure its high quality.

Recommended for skin care, cosmetics, soaps and wellbeing.

Care Instructions: Do not ingest (we're not haccp certified so we can't sell this as a food product, yet)

Sleep, anti-inflammatory, antiviral, anti-fungal, antibacterial