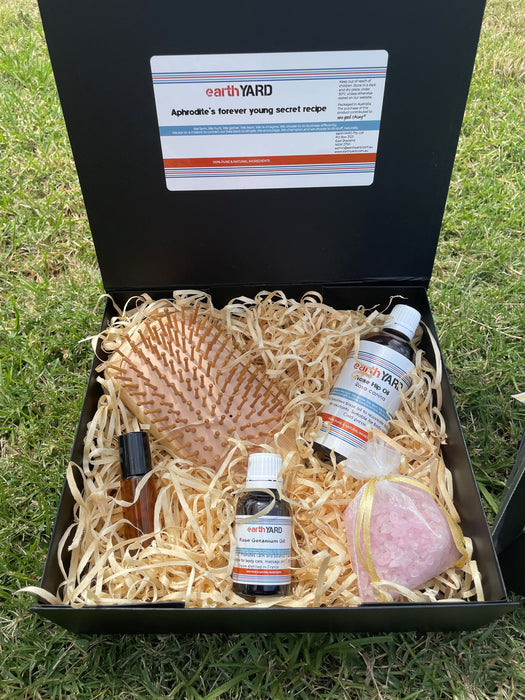 Aphrodite's Secret
Sold out
Original price
$45.00
-
Original price
$45.00
Gift love and compassion this Christmas. This gift box contains our selection of Aphrodite's secret ingredients for self love and care. 
Help your loved one create a Rose Hip Roller infused with Rose Geranium and Rose Quartz. Also comes with a Bamboo Paddle Brush.
Valued at $69.95 - now only $49.
It includes:
1 x 15ml Roller Bottle 
1 x 100gm of Rose Quartz Chips. Dating back to the Assyrian period of 800BC as a stone used in jewellery, this crystal has been prominent in era after era. The Rose Quartz takes its name from the pale pink colour and from the Greek word Hyalos which means glass. Mythologically linked to whimsical gods and goddesses of history like Aphrodite and Adonis.
1x 28ml of Rose Geranium Oil. Rose Geranium Oil is a little sweeter and greener in aroma than its cousin Geranium from the same botanical family. Its fragrance is sweet, slightly peppery and rose-like. Rose Geranium is commonly used to scent soaps and candles.
In aromatherapy, it is used to promote calm. As a relaxant, it may be diffused to stabilise emotions.

1 x 100ml of Rose Hip Oil. Rose Hip Oil is a skincare champion. Some consider it a miracle oil that helps to reduce signs of ageing. It contains essential fatty acids that help to build up our skin's protective layer. This helps to keep moisture in, which will keep skin hydrated and plump. Rosehip Oil also contains vitamins A and C which act as antioxidants that help to combat oxidation. This can lead to fine lines and dark spots that can age the skin.
 1 x Bamboo Paddle Hair Brush. Bamboo hair brushes are durable and long-lasting, making them a perfect sustainable option. The main benefits of a bamboo hairbrush are a healthy scalp, frizz reduction, improved circulation, increased shine, hair growth, and sustainability. A paddle brush is the best all around de-tangler. They're great for pulling knots out of your hair on cold windy days, or just getting your hair to lie flat and look neat.