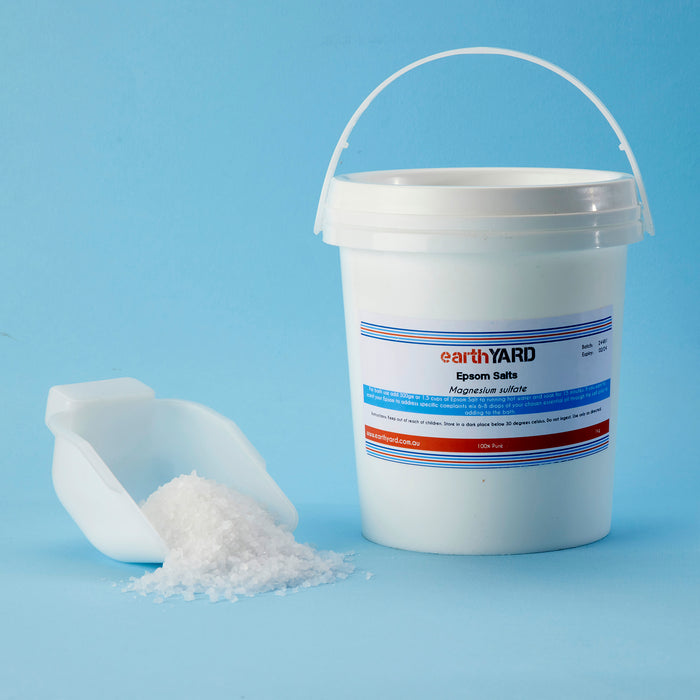 Epsom Salt
Sold out
Original price
$5.00
-
Original price
$21.00
Magnesium sulfate
Magnesium + Sulfur + Oxygen = Epsom Salts.
Centuries of documented use as a bath salt to help ease muscle tension, pain and for general relaxation has Epsom Salt high up on our list of must-haves for the home clinic. 
Did you know that magnesium sulphate in its pure form (ie; no added essential oils or aromas) is also commonly used in the garden to help encourage chlorophyll and photosynthesis in plants that are lacking in magnesium, a vital nutrient in the growing process.
Believed by integrative medicine experts to help to calm the mind, stabilize moods and relieve depression. Physically, researchers are convinced that Epsom Salt has the ability to relieve migraine tension when applied topically or taken in a bath.

For bath use add 300gm or 1.5 cups of Epsom Salt to a running hot water bath and have a soak for a good 15 minutes. If you want to scent your Epsom to address specific complaints mix 6-8 drops of your chosen essential oil through the salt prior to adding to the bath. We recommend avoiding salt baths if you have open wounds or current skin inflammations such as dermatitis.
Some natural health therapists will suggest drinking Epsom Salt - we're not the expert here so before you go following any detox suggestions seek guidance from a specialist in this area. Consumption of Epsom Salts can cause upsets to the digestive system.
Top Tips:
MIND
Add 6-8 drops of Peppermint, Tea Tree or Lavender to 300gm of Epsom Salt for a calming bath post trauma, depression cycles, or after a hard day to help ready the mind and body for restorative sleep. 
BODY
Add 6-8 drops of Kunzea, Rosalina or Eucalyptus Lemon Ironbark for a soak to assist the calming of itchy skin in response to bug and insect bites.
Add 1 Tablespoon of your favourite Carrier Oil such as Argan, Sweet Almond or Hemp Seed to 3 Tablespoons of Epsom Salt for a quick in-shower exfoliant.
Mix equal parts conditioner and Epsom Salt for a leave-in treatment. Leave in for 20 minutes and then wash out.
HOME
Mix 1 cup of Epsom Salt with 1 Cup of Soap Nut Detergent Solution for an effective abrasive tile and grout cleaner. Add 5 drops of Lemon Oil, Orange Oil or Clove Bud Oil for a targeted approach.
Our Epsom Salt is responsibly extracted from deposits in Germany and has undergone extensive testing to ensure its high quality.

Care Instructions: Not recommended for ingestion.

Available in 1kg and 5kg Pails - return your used plastic for free once finished.




Epsom Salt is restorative, calming, soothing.