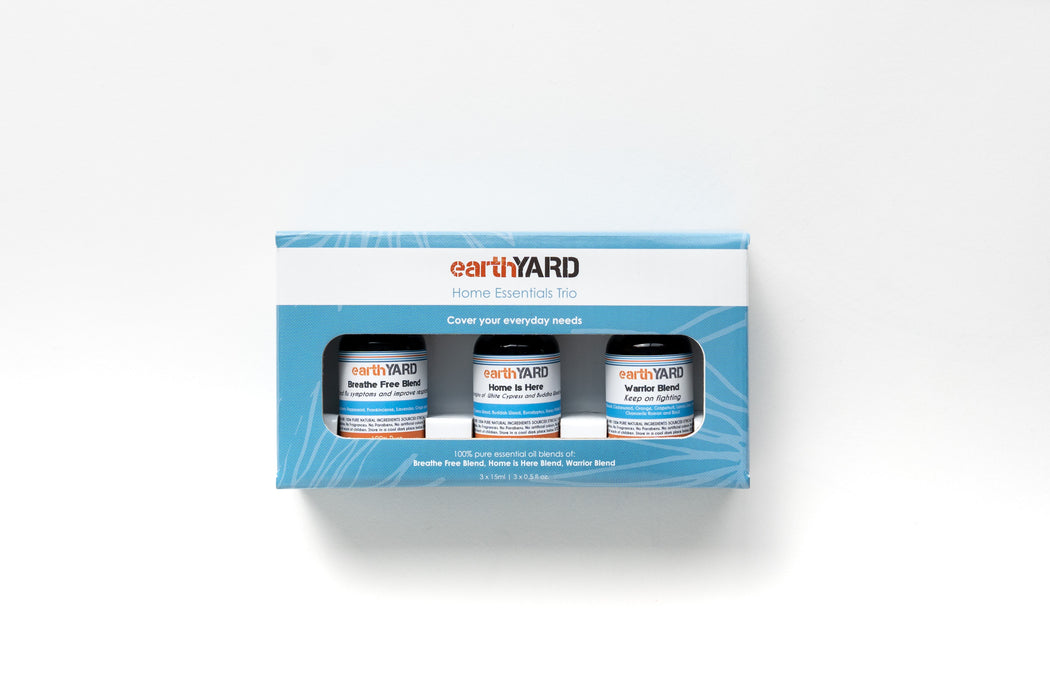 Homely Trio - Gift Pack
Sold out
Original price
$27.00
-
Original price
$27.00
This Trio covers your essential aromatherapy needs and is a must for every home – hence the name!

Breathe Free Blend is not only perfect for clarifying the air when someone is sick at home, but it's also generally good for promoting deep breathing to relieve tension. To promote a sense of sanctuary, diffuse our grounding Home is Here blend. The warm aroma of this blend is inspired by Australian natives like White Cypress and Buddha Wood and will instantly make you feel relaxed and at home. For days when you need a boost, diffuse Warrior Blend. Earth and citrus tones will help to inspire and bring out your inner strength to help you push through life's challenges.
Contains:
1 x 15ml Breathe Free Blend
1 x 15ml Warrior Blend
1 x 15ml Home is Here Blend
Breathe Free Blend - Regardless of the season, sometimes we just need a little help to remember to breathe deeply and freely. Whether there is end of year tension, a turn in the season (and the allergies to boot) or simply a time for calm, this blend will help you to take a moment and remember your breath. Contains Eucalyptus, Peppermint, Frankincense, Lavender, Ginger and Lemon. 
Home Is Here Blend - This blend of Australian natives pays tribute to the origins of our White Cypress and Buddha Wood (Buddhawood) oils. Both oils are harvested by an indigenous community on Wiradjuri land.
Contains White Cypress Wood, Buddha Wood, Eucalyptus Broadleaf Peppermint, Honey Myrtle, Rosalina and Jasmine.
Warrior Blend - For those days when you need a boost to keep on fighting. This warrior blend calms, centres and inspires ambition. With earth and citrus tones bring out your inner warrior strength. Contains Sandalwood, Cedar Wood, Orange, Grapefruit, Lemon, Lime, Juniper Berry and Geranium.