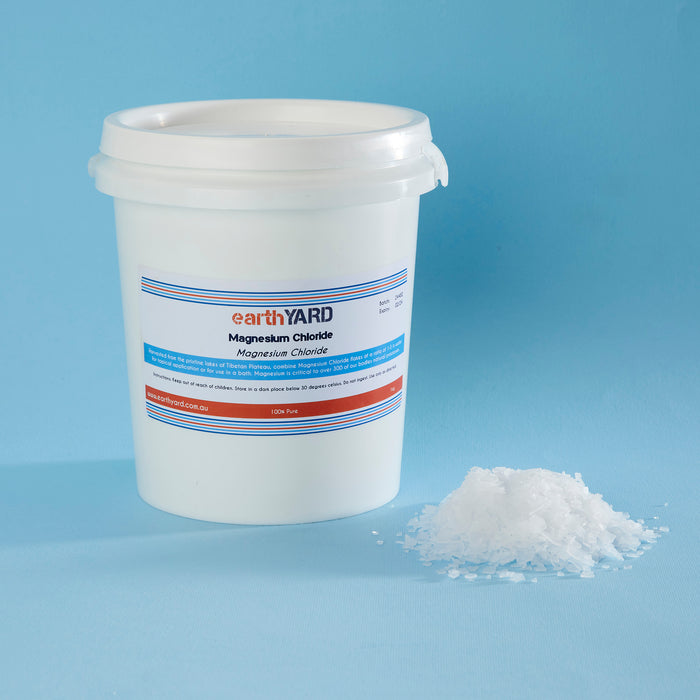 Magnesium Chloride
Sale
Sale
Original price
$13.00
-
Original price
$54.00
Magnesium chloride
Harvested from the pristine lakes of Tibetan Plateau 3,200 metres above sea-level from an abundant source of natural deposits of Magnesium Chloride using only natural energy sources to operate harvesting equipment. Sun dried salt flakes are packed and sent to us, and then sent to you. Simple ingredients made simply.
Used commonly in therapeutic baths, foot soaks and in supplements (even though this is food grade - we're not certified that way so can not instruct here).
Different to Epsom Salts which is a combination of elements Magnesium and Sulphate, Magnesium Chloride is an combination of the elements Magnesium and surprise surprise, Chloride.

Highly soluble in water, combining Magnesium Chloride flakes at a ratio of 1:3 in water gets you your very own Magnesium Oil. It's called oil because the water has an oily texture to it. There's not actually oil there. Spray on tired muscles, on dry skin and even as a facial spray to freshen up.
When used on the skin (trans dermally or topically), magnesium is absorbed more efficiently than when taken as a supplement. Magnesium is critical to over 300 of our bodies natural processes and we're more deficient than we realise. 
So what's the difference between Magnesium Chloride and Epsom Salts? Quite simply Magnesium Chloride is absorbed more efficiently than Magnesium Sulphate. And as Magnesium Chloride dissolves in water has beneficial uses for topical applications, whereas Epsom Salts has a more versatile belonging in the home.
Top Tips:
 BODY
Add 1 to 2 cups to your bath for a mineral rich soak. 
Add 1/4 cup to a foot basin or part filled tub for a foot soak - try adding Lavender, Blue Mallee or our Dreamcatcher Blend (3-5 drops) for a calming, anti-bacterial or grounding foot bath.
Dilute 1 Tablespoon of Magnesium CHloride flakes into 3 Tablespoons of water for a quick face mist.
Our Magnesium Chloride is responsibly extracted from deposits in Tibet and has undergone extensive testing to ensure its high quality.

Care Instructions: Not recommended for ingestion.

Available in 1kg and 5kg Pails - return your used plastic for free once finished.




Magnesium Chloride is healing, soothing, restorative