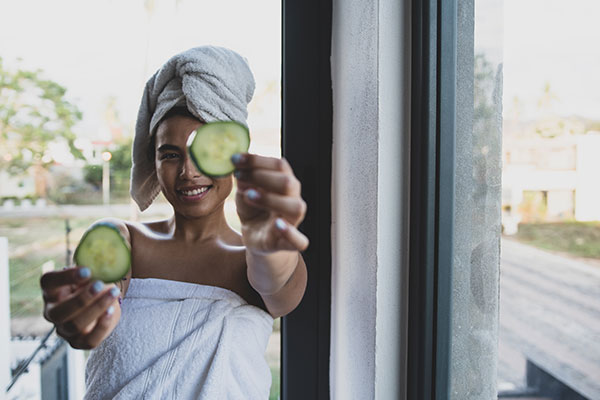 Skin Care Naturally
For the most part, skin is considered in an aesthetic sense. How it's red, blemished, clear, saggy, dry or oily. But skin is our largest organ and protects our precious insides from damage that can be caused by our environment.

When it comes to skincare, we should focus on just that – care for our skin. Healthy skin will naturally be glowing, radiant and all the good things, and we believe that the best way to care for skin is naturally.
The Good, The Bad and The Natural
One of the most contentious aspects of skincare is whether synthetic ingredients are harmful and if their natural counterparts are better. The short answer is that we don't know for sure. It's problematic to separate natural ingredients and synthetic ingredients and declare either good or bad as a whole.

There are beneficial and toxic chemicals on both ends of the spectrum, what a person reacts adversely to is dependent on their skin, DNA, medical history and even how much exposure has accumulated across the years to certain chemical compositions both natural and unnatural. In recent years, the potentially harmful effect of common synthetic ingredients has come to light. This includes phthalates, formaldehyde and parabens found in many commercial skincare products that are used mainly as preservatives and have been linked to skin irritation, endocrine disruption and even cancer.

Natural compounds can also have a negative effect. Most reported risk associated with natural cosmetic ingredients such as essential oils relate to skin irritation (especially when they aren't diluted in a carrier oil or base product), however some studies suggest that certain essential oils may even disrupt hormones in pubescent boys. The evolution of understanding is perpetual.

This is why natural or synthetic, it's always a good idea to do your research and follow product instructions. Toxicity is usually a factor of concentration, especially in skincare products so one good habit to get into is to check product labels and read up on the ingredients listed. Ultimately the best decision is a considered decision!

Our preference lies with single-origin natural products because we think that they do better for people, the planet and products.
Multitasking Ingredients
A trend in skincare is for single chemicals or compounds to be isolated. Take vitamin C as an example. Not only does vitamin C stimulate collagen production in your skin, it also improves complexion by reducing the appearance of dark circles, pigmentation and is a powerful antioxidant. Many products contain vitamin C derivatives such as ascorbic acid, L-ascorbic acid or ascorbyl glucoside among others. These are developed from the vitamin C molecule for stability, but they aren't the same as naturally occurring vitamin C.


Natural sources of vitamin C such as Kakadu Plum (the highest source of naturally occurring vitamin C) not only contain vitamin C, but a cocktail of other skin-loving ingredients too. Kakadu Plums are also high in vitamin E and lutein, both effective antioxidants as well as gallic acid that may soothe skin and reduce redness.
Another example of a natural skincare ingredient that does double duty is Rosehip Seed oil that contains high levels of vitamin A. Retinol, is a common synthetic ingredient in skincare products designed to promote epidermal turnover, stimulate collagen growth and decrease inflammation and is derived from vitamin A.
Many prefer Rosehip Seed oil as an alternative because it isn't as harsh on the skin as retinol can be, but it still packs a multitude of benefits. It is high in the all-powerful vitamin C as well as B, K and A which makes it an excellent skin regenerator. It's also high in essential fatty acids which makes it an exceptional hydrator.
Opting for natural hero ingredients in products means less processing and more of the extra beneficial compounds naturally found in plant to give skincare a boost.
Simplicity
The main benefit of using natural ingredients as they are is that you can keep your skincare routine simple. The simpler your routine, the easier it will be to stay on top of the ingredients that you use on your skin.
In the case of Rosehip Seed Oil, you can use it exactly as is without any added ingredients. That's one ingredient for an entire product. For oils that can't be applied neat (undiluted) to the skin, you can choose a carrier oil that also comes with its own benefits for skin such as Jojoba (very similar to our skins natural oils which means it can penetrate deep into our skin to deliver naturally occurring antioxidants, vitamins A, E and D and fatty acids) or Argan Oil (also rich antioxidants and Vitamin E). We've also created infusions to make fruit extracts such as Kakadu Plum oil-soluble.
We also apply the KISS principle (keep it simple stupid!) to our skincare base products. Our cream, lotion and body butter bases are infused with hydrating sweet almond and antioxidant-rich grape seed. Shea and rice bran are added to the body butter to make it extra rich. We keep bases fragrance-free and super simple which makes them great to use as-is for people with sensitivities. This is especially important as the term 'fragrance' or 'perfume' can be numerous ingredients that the manufacturer isn't obliged to disclose.

If you do want to add your own essential oil scent or additional ingredients to boost your skincare's botanical power specifically to your needs, they are also designed to accept up to 10% in additional ingredients in total. We highly recommend that for any facial use you stick to a very low essential oil dosage of 1% tops as the face is particular absorbant and sensitive when compared to the rest of the body. When it comes to customising bases for general bodily application 3% essential oil is the general rule of thumb. Always ask if unsure.
With uncomplicated ingredients, our bases are free from many synthetics that may be harmful to humans or the environment, and because they're so simple they're confusion-free too!
Skincare Naturally?
There is good and bad on both sides and it's ultimately up to you to decide what you want to put on your skin. As your go-to for natural stuff, we source the purest (single origin), most ethical and always try for local ingredients because that's what we want to champion.
We price our items for affordability (and fairness to the producers) so that trying and testing our wares won't break the bank. We create easy to customise bases and DIY recipes so that you can take charge of the ingredients in your products. Whether you choose to use natural is up to you and what works for your skin.