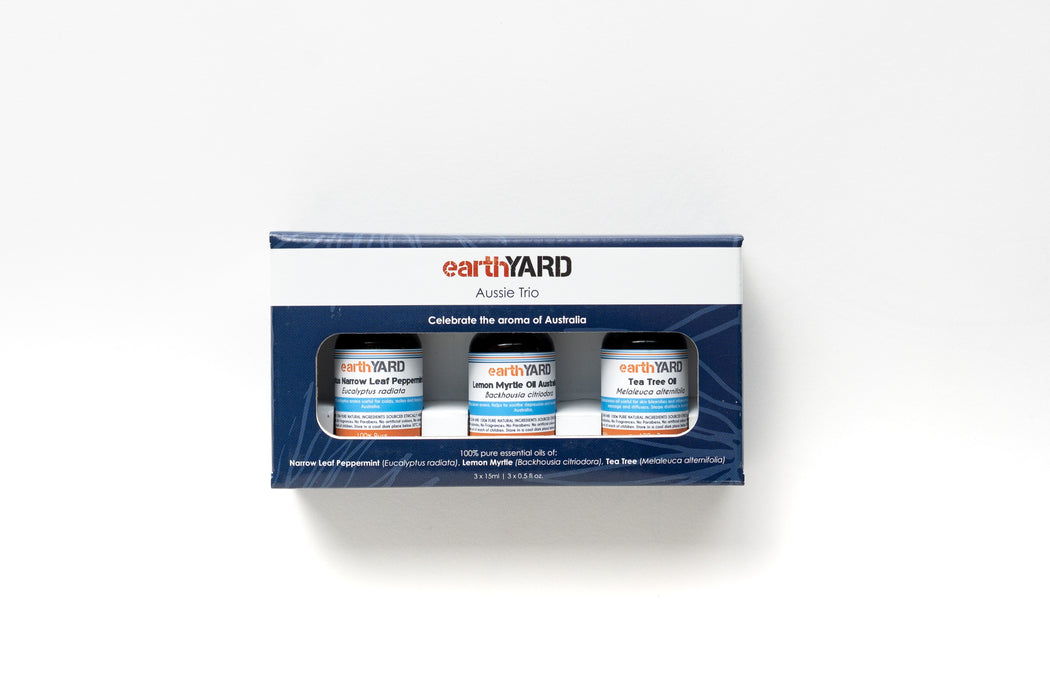 Aussie Trio - Gift Pack
Sale
Sale
Original price
$17.00
-
Original price
$17.00
 Celebrate the aroma of Australia with our Aussie Trio gift set.
1 x 15ml Eucalyptus Narrow Leaf Peppermint Oil
1 x 15ml Lemon Myrtle Oil
1 x 15ml Tea Tree Oil
Save on our most popular quintessential Australian essential oils.
Eucalyptus Narrow Leaf Peppermint Oil (Eucalyptus radiata), also known as Eucalyptus Australiana has a bright and refreshing peppermint menthol eucalyptus aroma that is soft and warming. It may be effective as a natural anti-bacterial and antiseptic which makes it the perfect addition to blends for colds, aches and tiredness. Our Radiata is harvested and distilled on the New South Wales south coast by our brother company Native Oils Australia.
Lemon Myrtle Oil (Backhousia citriodora) is one of our favourite essential oils. It may assist with soothing depression with an uplifting and peaceful scent. It may also have anti-bacterial properties. It has a rich bush lemon aroma and blends well with other Australian essential oils. Lemon Myrtle Oil is produced on the east coast of Australia and our Lemon Myrtle Oil comes from a small farm on the Mid North Coast of New South Wales.
A must-have for any collection. Tea Tree Oil (Melaleuca alternifolia) has a fresh herbaceous aroma. It is a popular Australian oil that is widely used as a treatment for skin irritations, colds and coughs, acne, skin toning, bug sprays, lice treatments and more. It blends well with other Australian oils.