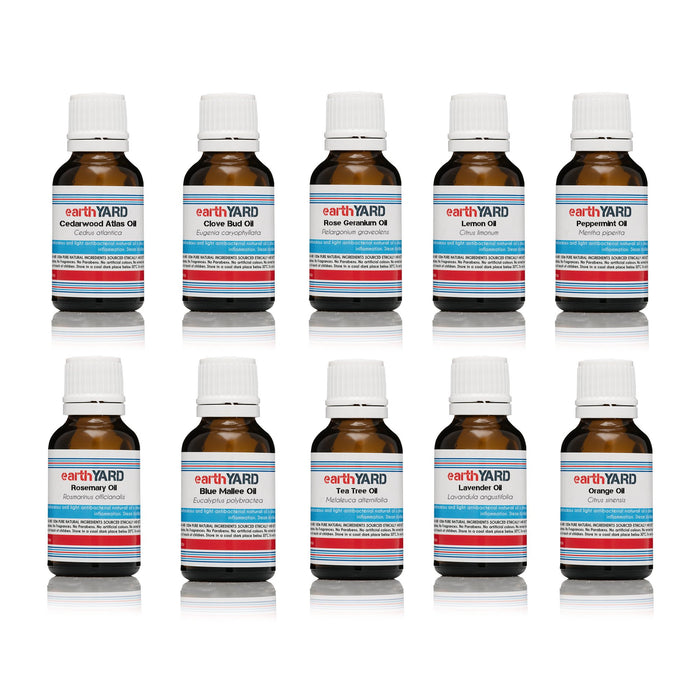 Beginners Gift Pack
Sold out
Original price
$55.00
-
Original price
$55.00
 Are you interested in starting an essential oils collection in your home but are not sure where to start? We've got you covered. This Starter Gift Set contains the best of the best with our selection of 5 Australian Essential Oils and 5 premium essential oils from our producers around the world.
This gift set has also been designed to ensure you have an oil for everything to start you on your zero-waste journey. From Orange, Clove and Lemon for cleaning, Lavender for sleep, Eucalyptus and Tea Tree for common health, Peppermint and Rosemary for focus and mind, Rose Geranium and Cedarwood for wellbeing.
Each carefully selected oil has a multitude of uses and this gift set is bound to inspire the whole home.
Contains:
1 x 17ml Orange Oil
1 x 17ml Tea Tree Oil
1 x 17ml Lemon Oil
1 x 17ml Eucalyptus Oil Blue Mallee
1 x 17ml Peppermint Oil
1 x 17ml Lavender Oil Bulgarian 
1 x 17ml Rosemary Oil
1 x 17ml Clove Bud Oil
1 x 17ml Cedarwood Oil
1 x 17ml Rose Geranium Oil
Orange Oil (Citrus sinensis) is a versatile sweet oil with a fresh and uplifting aroma. It blends well with a majority of essential oils and we recommend spicy notes such as cinnamon and frankincense. It works well as a room freshener and has anti-depressant and anti-inflammatory properties. Spruce up your mood on cold days with a whiff of Orange.
 A must-have for any collection. Tea Tree Oil (Melaleuca alternifolia) has a fresh herbaceous aroma. It is a popular Australian oil that has many medicinal uses such as for skin irritations, colds and coughs, acne cleansers, toners, bug sprays, lice treatments and more. It blends well with other Australian oils.
Lemon Oil Cold Pressed (Citrus limonum) is a sweet citrusy essential oil that has excellent cleansing and uplifting properties.
Pick yourself up off the ground and get up and at the day with Lemon Oil - especially to give you the boost you need to hustle in the cold months.
Lemon Oil is used worldwide in natural cleaners (and some unnatural cleaners).
Eucalyptus Blue Mallee (Eucalyptus polybractea) is a traditional Australian Eucalyptus with a sweet fresh aroma. It is useful for colds as it has an anti-bacterial quality and blends well with many Australian essential oils.
Our Blue Mallee is produced by our brother company Native Oils Australia in South Australia at the top end of the Eyre Peninsula.
Peppermint Oil (Mentha piperita) is an intense fresh and minty oil with an uplifting scent. It is a familiar fragrance that is welcoming to any energising blends and massage oils. Peppermint can help to relieve tension and pain as well as ease tired cold bones during winter months.
Lavender Oil (Lavandula angustifolia) Bulgarian is a sweet floral and camphorous aroma, famous world-wide. Slightly less herbal than the beautiful Australian version. 
It helps to soothe and calm nerves as well as skin irritations. It is a must-have oil for any collection. Lavender is an anti-inflammatory, anti-bacterial and an anti-depressant oil making it perfect for your winter collection.
This lavender oil is grown and distilled to organic standards.
Rosemary Oil (Rosmarinus officinalis) has a sharp herbaceous and fresh scent. It is a stimulating and energising oil that is useful for memory and alertness as well as providing a rejuvenating effect of hair. Rosemary Oil has been said to assist alopecia.
Clove Bud Oil (Syzgium aromaticum) is a stimulating and uplifting oil. It works to support the immune system, is warming and acts as an anti-inflammatory. It has a spicy scent and blends well with citrus oils and is popular in masculine blends.
Add a few drops into a Winter blend to bring the aroma of a white christmas to your home (or skin! - dilute with a carrier first).
Clove Bud oil can be used topically to reduce dull tooth aches (don't swallow though). Clove is also a miracle mould remover. Try our DIY easy recipe.
Cedar Wood Atlas Oil (Cedrus atlantica) has a sweet woody base note that can stand alone or blend easily. With a history dating back to ancient Egypt, its benefits are vast though it is popular for its protection against negativity and its healing qualities. Some suggest that Cedar Wood Atlas can have an aphrodisiac effect. Did you know that Cedar Wood oil can also, when diffused, be used to prevent mildew growth? Cosmetically, Cedar Wood can be used to reduce bacteria that causes acne and help to soothe inflammation.
Rose Geranium Oil (Pelargonium graveolens) is a little sweeter and greener in aroma than it's cousin Geranium. From the same botanical family, Rose Geranium is also a wonderful relaxant. Popular for menopause, acne, circulation and general skin care, this pure essential oil is also rather a winner for soaps and candles.