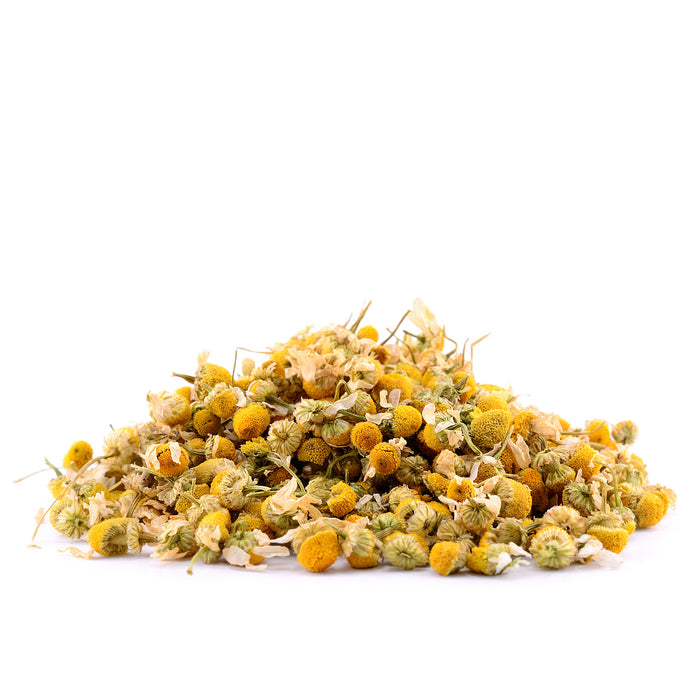 Chamomile Flower 75GM
Sale
Sale
Original price
$0.00
-
Original price
$0.00
Anthemis nobilis
Has there ever been a flower more peaceful than the chamomile? Sure, peace lilies are gorgeous but chamomile? Have you ever brushed your hand across a flowering chamomile? The soft emitting aroma instantly calms and de-stresses you.
Chamomile Roman oil is used in products from skin care to soaps to hair care to baby care to pet care. It's one of the most earth inhabitant friendly plants around. Whilst you can buy the oil, hydrosol and extract from our store, there is a need for offering the pretty little dried flowers so your collective imaginations can run wild.
Chamomile in skin care and soap craft is toning, calming, soothing and restorative. Chamomile in hair care is protective and increases follicle regeneration. Chamomile in intention setting can have its place in purification and protection rituals as well in attracting good fortune and luck.
What do you do with the dried flower?
Herbal and scented nature pouches, infusions for skin care, use in soap, sprays and skin care.
Our Chamomile flowers are grown organically in Bulgaria, sun dried and vac-packed before being sent to us and has undergone extensive testing to ensure its high quality.

Recommended for skin and hair care, cosmetics, soaps and wellbeing.

Care Instructions: Do not ingest (we're not haccp certified so we can't sell this as a food product, yet)

Chamomile eases soothes irritation, is anti-inflammatory, antibacterial with relaxing, antidepressant and sleep-inducing effects.