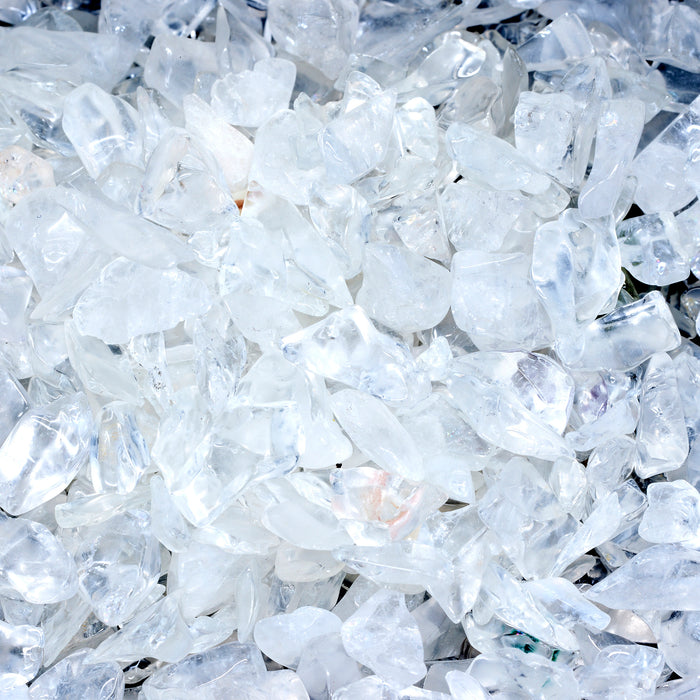 Clear Quartz Crystal Chips - 100GM
Sale
Sale
Original price
$6.00
-
Original price
$6.00
Clear quartz is global. And by that we mean, it is found all over the world. We recently stumbled across a small deposit in our backyard. Known as an energy amplifier Clear Quartz crystals are best paired with other crystals to give those crystals a needed boost when you set your intention. Clear quartz has been used in both spirituality and medicinal realms since the ancient times. The Egyptians would bury their dead with Clear Quartz to allow the spirit to be guided to the final resting place. Traditional Chinese acupuncture saw the use of clear quartz as the delivery point on the end of needles believing this way the crystals would release their power. 
Cosmetic
Gua sha is a traditional Chinese medicine technique that has been used for centuries and involves a using a "scraping" technique with crystal palm stones on the body to release toxins and relieve sore or injured muscles. The modern version of this technique is designed to reduce tension, stimulate blood flow and promote healing. This version takes crystal chips and infuses them into roller bottles with fatty acid rich carrier oils. Or alternatively, a facial roller designed to stimulate the lymphatic system and open and close the pores.
Meditation
Known as the master healer, clear quartz is the most powerful healing and energy amplifying crystal available. This stone balances the chakras, cleanses the aura, absorbs, stores, releases and regulates energy as well as facilitates in releasing any energy blockages. Clear quartz is a rockstar among crystals as it is believed to manifest your intentions and illuminate the spirit. Use Clear quartz to cleanse, dispel negative energy and allow pure energy to manifest.
Wellness
Clear Quartz wards off negative energy of all kinds, neutralises atmospheric radiation, including electromagnetic smog (computers! appliances!) or petrochemical emanations. Clear quartz is used to help clear and focus the mind allowing manifestation of what is to come to enter. As it is an amplifier of energy, it is best paired with crystals such as Rose Quartz, Amethyst or Citrine.
Care
Like all crystals, Clear Quartz needs proper care and regular cleansing rituals. Some simple methods include:
1) Immerse in salt water overnight
2) Expose to rain water for 5 minutes
3) Leave under a full or waning moon overnight
4) Smudge with sage or eucalypt smoke
5) Use your personal energies if you're up to it to cleanse and clear any stored negativities
Origin - Australia
Our Clear Quartz Crystal chips are mined in Australia.

Recommended for rollers and meditation bowls.

Amplifier, healing, cleansing.