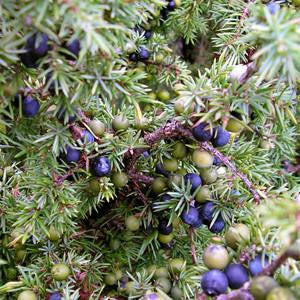 Juniper Berry Floral Water
Sale
Sale
Original price
$6.00
-
Original price
$11.00
Juniperus communis
Juniper Berries Oil has a woody, crisp yet sweet scent that is calming without having a sedative effect. This fresh scent blends well with floral and citrus aromas.
With antiseptic and antibacterial properties, Juniper Berry Oil is used to purify and cleanse in natural therapies. It may also be used to detoxify and reduce redness in the skin which makes it a wonderful natural toning ingredient.

This floral water is perfect for perfumery blends that carry citrus fragrances. It can be used as a substitute for water in cosmetic formulations and diffusers, for room mists, skin toners and body sprays.

Ingredients: UV Radiated Sydney Water, Juniper Berry Oil, Gluconolactone & Sodium Benzoate & Calcium Gluconate.
Juniper Berry Floral Water is made using Juniper Berry Oil distilled in Spain and is made here by us using natural preservatives. This product has undergone extensive testing to ensure its high quality.

Recommended for blends, aromatherapy, perfumery and skincare.

Care Instructions: Not recommended for ingestion.

Juniper Berry Floral Water may be cleansing, purifying, antiseptic, antibacterial and good for colds and touches of flu.