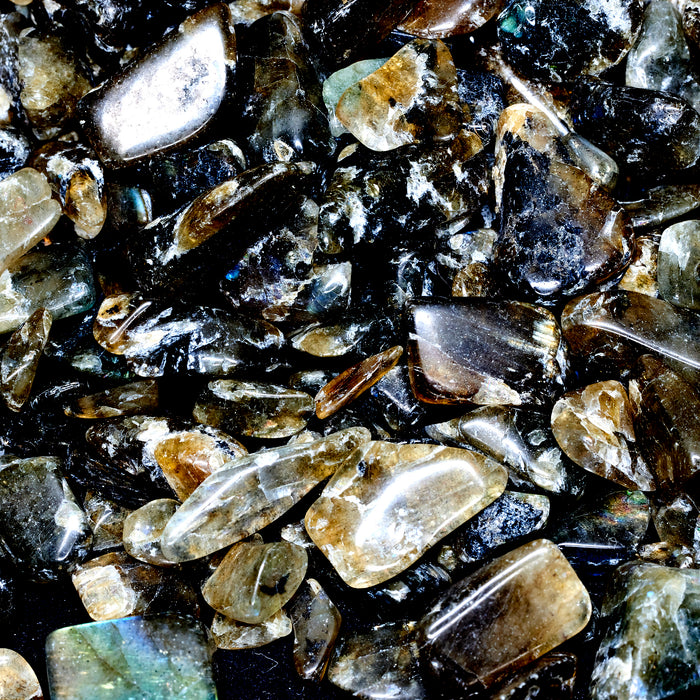 Labradorite Crystal Chips - 100gm
Sale
Sale
Original price
$7.00
-
Original price
$7.00
Lore of the Inuit people claims Labradorite fell from the frozen fire of the Aurora Borealis. It is, in every sense, a Stone of Magic as a crystal of shamans, diviners, healers, and all who seek universal knowledge and guidance. 
Cosmetic
Labradorite aids your metabolism and helps to balance hormones. Labradorite crystals can also increase blood flow to the surface and boost its circulation. 
Meditation
Labradorite is a mystical and protective crystal known as the "bringer of light". It forms a protective barrier, deflecting negativity and unwanted energies from your aura and your home. Raising you consciousness and connecting you to universal energies, Labradorite stimulates intuition, enhances psychic abilities and aids spiritual journeys. Labradorite strengthens your ability to trust and opens up the imagination allowing creativity to flow without inhibition. Labradorite provides an ease in moving between the worlds and permits a safe and grounded return to the present. 
Wellness
Labradorite reduces negative personality traits and anti-social, reckless, or impulsive behaviour. Labradorite has been used to reduce stress, anxiety and issues of the eyes, brain and mental nature. It has also been used to assist in system regulation metabolically and digestively. Labradorite lowers blood pressure, reduces sensitivity to cold, and alleviates rheumatism and gout.
Care
Cleansing and caring for your crystals should be a regular ritual that helps you release built up energies and prepare for coming days. Our favourite easy methods of cleansing crystals include:
- Placing out in a full moon - a long duration of direct moonlight is best and remember to bring these in before too long in the day as exposure to a lot of sunlight can reduce a crystals capacity to operate.
- When no moonlight is available immersing crystals in salt also works very well
- Smoke rituals with a smudge stick can help to cleanse crystals, simply use a eucalypt or sage smudge stick and waft over the crystals
- Meditation and intention for those ready to direct their personal energy to cleansing crystals is also very effective
Origin - Madagascar, Finland
Our Labradorite Crystal chips are mined in Finland and Madagascar. 

Recommended for rollers and meditation bowls.

Circulation, protections, negativity.