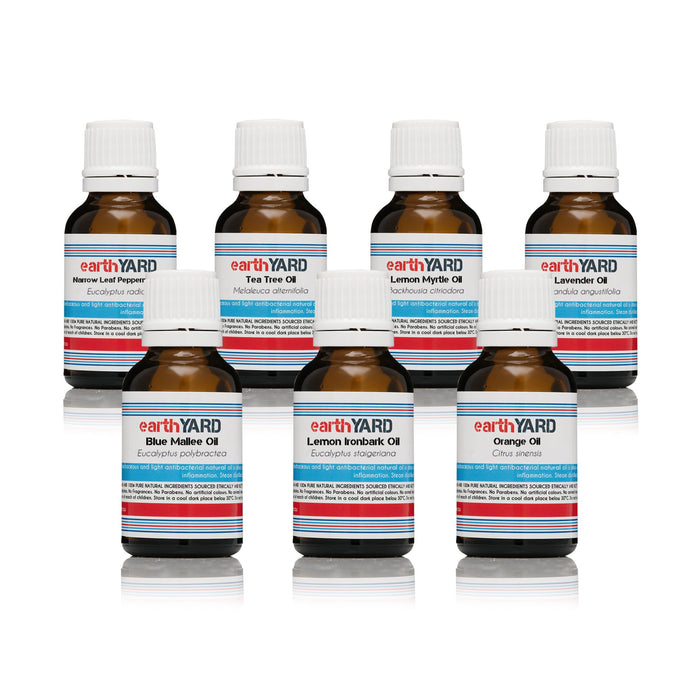 Ultimate Australian Essentials Pack
Sold out
Original price
$41.00
-
Original price
$41.00
AVAILABLE FOR SHIPPING NEXT WEEK (10/6/22 expected) - delay on new harvest Ironbark
Experience the magic of Australian essential oils with our selection of the top seven most popular must-have oils. A perfect gift set to start any collection or spoil someone special.

1 x 17ml Orange Oil Cold Pressed
1 x 17ml Lemon Myrtle Oil
1 x 17ml Tea Tree Oil
1 x 17ml Eucalyptus Blue Mallee Oil
1 x 17ml Eucalyptus Lemon Scented Ironbark Oil
1 x 17ml Rosalina Oil
1 x 17ml Lavender Grosso Australian Oil

Orange Oil (Citrus sinensis) is a versatile sweet oil with a fresh and uplifting aroma. It blends well with a majority of essential oils and we recommend spicy notes such as cinnamon and frankincense. It works well as a room freshener and has anti-depressant and anti-inflammatory properties. Spruce up your mood on cold days with a whiff of Orange.

Lemon Myrtle Oil (Backhousia citriodora) is one of our favourite essential oils. It soothes depression, is uplifting, has a wonderful antibacterial element and smells peaceful. It has a rich bush lemon aroma and blends well with other Australian essential oils.
Lemon Myrtle Oil is produced on the east coast of Australia and our Lemon Myrtle Oil comes from a small farm on the Mid North Coast of New South Wales.

A must-have for any collection. Tea Tree Oil (Melaleuca alternifolia) has a fresh herbaceous aroma. It is a popular Australian oil that has many medicinal uses such as for skin irritations, colds and coughs, acne cleansers, toners, bug sprays, lice treatments and more. It blends well with other Australian oils.

Eucalyptus Blue Mallee (Eucalyptus polybractea) is a traditional Australian Eucalyptus with a sweet fresh aroma. It is useful for colds as it has an anti-bacterial quality and blends well with many Australian essential oils.
Our Blue Mallee is produced by our brother company Native Oils Australia in South Australia at the top end of the Eyre Peninsula.

Eucalyptus Lemon Scented Ironbark Oil (Eucalyptus staigeriana) is a soft and sweet citrusy Eucalyptus that is uplifting and holds many anti-septic properties. It blends well with many Australian essential oils and is typical of an Australian aroma. Lemon Ironbark is used as a relaxant and can help to eliminate bad odours.

Rosalina Oil (Melaleuca quinquinerva CT linalool) has a woody scent with a hint of lavender to its aroma. It is known for its ability to lift the aroma profiles of other oils in perfumery and has also been documented as having an anti-bacterial property.
Rosalina can help to promote peace and calm and has a cooling effect that is clearing and cleansing.

Lavender Oil (Lavandula angustifolia) is a well-known scent popular in perfumery and blends. It has a delicate floral scent with a slight herbal undertone. It helps to soothe and calm nerves as well as skin irritations. It is a must-have oil for any collection. Lavender is an anti-inflammatory, anti-bacterial and anti-depressant oil."