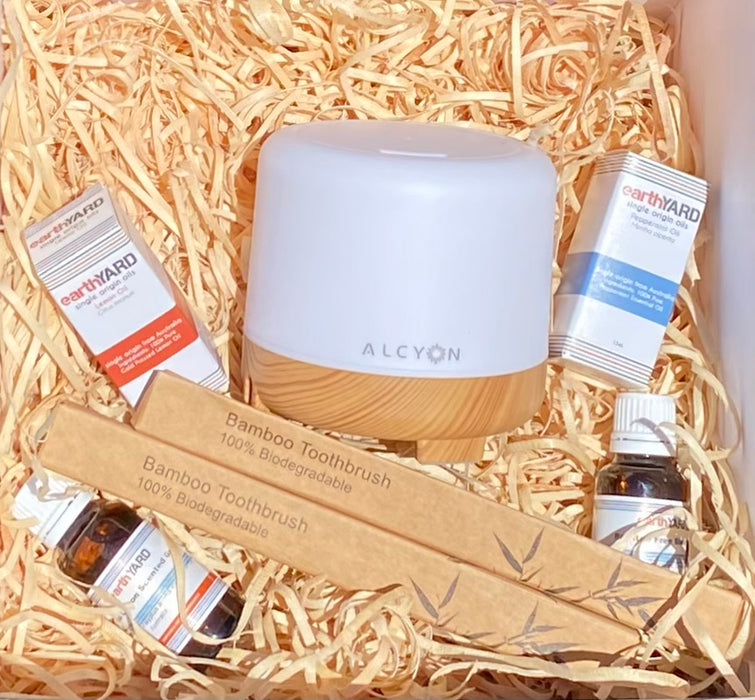 Winter Essentials Box Set
Sale
Sale
Original price
$45.00
-
Original price
$45.00
We are delighted to offer this beautiful Winter Essentials box set to you. It comprises of
Alcyon Minto Diffuser
Unlike conventional candles or oil burners that require heat to disperse the aromatic oils or reed diffusers that work via evaporation and can't be regulated, Alcyon's exclusive range of Ultrasonic Aromatherapy Diffusers work by breaking down water, infused with your favourite essential oil and transforming it into a microscopic cool mist that easily dissipates throughout your room or workspace.With no naked flames, loose liquids or hot water our line of Aroma Diffusers are perfect for use around the young, elderly and/or pets, so if you're looking for a natural, aerosol and chemically free environment, you can't go past Alcyon's Ultrasonic Aromatherapy Diffusers.
Peppermint Oil is made from plants grown on Yorta Yorta land, Australia. Peppermint Oil is an intensely fresh and minty oil with an uplifting scent.
Eucalyptus Lemon Scented Gum Oil
Eucalyptus Lemon Scented Gum Oil is extracted from plants grown on Wiradjuri land, Australia. Eucalyptus Lemon Scented Gum Oil has the same refreshing undertones of other Eucalypt oils but has a distinct lemon and citronella twist.
Lemon Oil 15ml
Lemon Oil Cold Pressed is a sweet citrusy essential oil that has excellent cleansing properties. It uplifts with its fresh, fruity and bright aroma. It's a wonderful oil to use in winter to refresh and cleanse indoor air and give your mood a boost.
Breathe Free Blend 28ml
It's filled with the brilliant anti-bacterial properties of Eucalyptus, and the uplifting aroma of Ginger and Peppermint. You'll love this blend all year round.
Bamboo ToothBrush x 2
Our Bamboo toothbrushes are BPA free and 100% biodegradable. Made from natural bamboo and sealed with an edible wax the handle is designed for maximum comfort. The Bristles are made from Nylon 6 and are also recyclable - just ply them out with tweezers or pliers (or cut them off at the stem) when you're done with them. The bamboo is sourced from sustainable plantations thus not impacting natural wildlife habitats. Brushes come in a sealed recyclable box. No plastic!