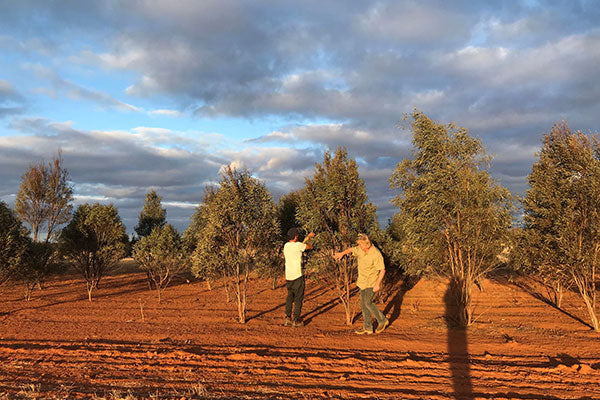 Our Place in the Australian Essential Oil Landscape
A few weeks ago, the closure of one of the great Australian Jojoba plantations and a shortage of Australian Beeswax prompted us to get share-y. We thought a change in the industry was a good time to let you know about how we fit into the essential oil landscape.

We introduced our parent company Native Oils Australia (NOA) and a little about what they do. But, in the interest of keeping our customers informed, we'd like to get transparent with how we work with NOA within the industry, and what our goals are.
Who is Native Oils Australia again?
Native Oils Australia is at the forefront of championing Australian essential oil growers and producers. Since 2011, NOA has provided resources, research, development and promotional services to interested industry folk.

NOA seeks new plantations and old plantations that need a boost to get them into commercial production. In short, they do all they can to help farmers develop systems that can become a sustainable income source in a tough Australian agricultural climate.
How does NOA work with earthYARD?
'Very closely' is the short answer to that question. NOA was founded by David Johnson who is also earthYARD's Director. David has been involved in Australian agri-business for over 30 years, specialising directly in the essential oil industry for the last 18 years. David is again serving as President of EOPAA (Essential Oil Producers Association of Australia). His passion is to represent and support single-origin Australian producers.
David and I also, share a surname - I call David Dad. This is the foundation of our 'earthYARD family' approach. We consider everyone involved with earthYARD – farmers, customers, staff, producers - as part of that family, which is why earthYARD and NOA care deeply about keeping the Australian Essential Oil network productive.
We also share an office which means there's plenty of shop talk from the consumer end (earthYARD) and production (NOA). This helps us source the best single-origin products in Australia, and we can help guide them by making sure they're up to date with what customers are looking for.
What do NOA and earthYARD hope to do?
Our goals are to advance the essential oil industry in Australia and support local farmers. We work together by providing a much-needed link between the grower and end-user. This includes earthYARD customers like you, but also cosmetic, aromatherapy and natural therapy manufacturers here and overseas.
In some cases, our relationship can help prevent the closure of a farm. When it can't, like in the case of Jojoba, at the very least we have a fuller picture of why this may have happened. We pass this knowledge onto consumers so that they are informed about the factors that affect their products.
And a refresher of what earthYARD does...
We serve you! Running a store takes a lot of work, so while NOA can focus on finding the best producers, we focus on consumers. Ideally, we'll offer Australian oils, but where we can't, we'll sell internationally produced oils that are high-quality.

earthYARD only sells the best single-origin products and we're sure as because we know exactly where our products come from and how they were made.


Our prices are fair but they're based on what our farmers would want us to sell at. We go direct as much as possible so that more money goes into the pockets of the makers, and not through the hands of hundreds in between.
What does this mean for you?
Whenever you buy an earthYARD product, you can be sure that your choice has considered everyone involved in the industry because we're in touch on another level through NOA.
Our industry connects also allow us to provide you with the freshest, single-origin products around. Most importantly, we hope that blogs like this will empower and inform you. We're not just a company looking to maximise our profits. We care, and work with our partners at NOA to improve industry outcomes for everyone.