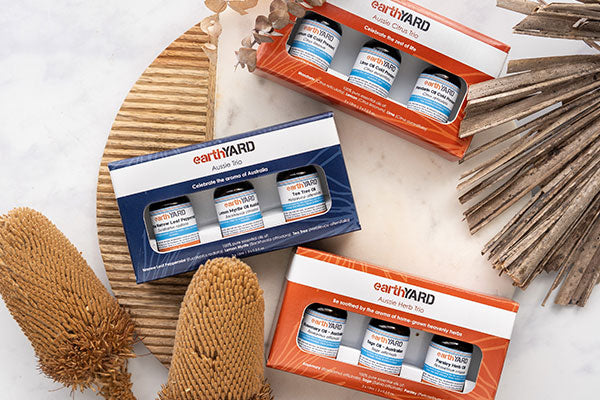 A Guide to our New Look Trios
Whether you're looking to start or build your essential oil collection economically, or want to gift these natural goodies to someone special – our Trios have you covered. We put a lot of thought into what oils group well together for blending, uses and needs and the result are these Trio helpings, now packed in boxes that look just as good as the oils inside them.

Here's your guide to our new look (but same great) Trios.
Aussie Herb Trio
Rosemary (Rosmarinus officinalis), Sage (Salvia officinalis), Oregano (Origanum vulgare)
Herbs aren't just a kitchen staple, they're a great treat as essential oils too. This Aussie Herb Trio features three classics that are grown right here in Australia. Oregano Oil's warm and slightly spicy aroma can be diffused to induce calm; Rosemary Oil's bite-y fragrance is perfect for stimulating the mind and promoting alertness, and Sage Oil's sharp aroma can be diffused to uplift fatigue or depressed moods.

These delicious herb oils also boast wonderful benefits for skin and hair when added to DIY products – from protective antioxidants to soothing sore muscles. They can also add a welcome fresh note to custom diffuser or perfume blends.

Perfect for: Foodies that can't get enough of the fresh scent of heavenly herbs! Shop here.
Aussie Citrus Trio
Mandarin (Citrus reticulata), Lemon (Citrus limonum), Lime (Citrus aurantifolia)


Our Zesty Aussie Citrus Trio is a bright, uplifting and super-handy Trio to have around. Aromatically, Mandarin, Lemon and Lime Oil are sweet, fresh and happy and can be diffused to uplift moods. These zesty oils are also incredibly useful – especially for natural DIY buffs.

Mandarin is a great addition to skincare formulas and may even out skin tone and reduce the appearance of blemishes and scars. Lime oil is also great for blemish-prone skin as it may reduce the overproduction of oil.

Lemon is a must for any DIY home cleaning product. Fresh lemon scent is commonly used in commercial cleaners, but by using Lemon essential oil you take advantage of its natural antibacterial properties too.

Perfect for: Natural DIY products lovers that like to keep things fresh! Shop here.
Home Essentials Trio
Breathe Free Blend, Home is Here Blend, Warrior Blend


This Trio covers your essential aromatherapy needs and is a must for every home – hence the name!

Breathe Free Blend is not only perfect for clarifying the air when someone is sick at home, but it's also generally good for promoting deep breathing to relieve tension. To promote a sense of sanctuary, diffuse our grounding Home is Here blend. The warm aroma of this blend is inspired by Australian natives like White Cypress and Buddha Wood and will instantly make you feel relaxed and at home. For days when you need a boost, diffuse Warrior Blend. Earth and citrus tones will help to inspire and bring out your inner strength to help you push through life's challenges.

Perfect for: Anyone that likes to use the natural scents of oils to find balance at home. Shop here. 
Exotic Trio
Frankincense (Boswellia Carterii), Cinnamon Bark (Cinnamomum zeylancium), Ylang Ylang (Canaga odorata)


Get whisked around the world at a moment's notice by adding a few drops of our Exotic Trio to your diffuser. Our Frankincense Oil has a sweet and spicy aroma that is reminiscent of delicious balsamic. Its warming and uplifting properties will transport you to the warmer climes of its country of origin – Somalia – with the added benefit of giving your immune system a boost.

To escape to Sri Lanka, add a few drops of Cinnamon Bark Oil to your blend. The warming and slightly spicy aroma may help to promote circulation, healthy immune function and feelings of strength.

The distinctly deep, sweet and exotic floral scent of Ylang Ylang is commonly used in perfumery. It's hard not to enjoy the cheerful aroma! A whiff of Ylang Ylang will help to alleviate stress and anxiety by transporting you to the tropical forests of Madagascar, where Ylang Ylang is grown.

Perfect for: Anyone craving an exotic escape. Shop here.
Aussie Trio
Eucalyptus Narrow Leaf Peppermint (Eucalyptus radiata), Lemon Myrtle (Backhousia citriodora), Tea Tree (Melaleuca alternifolia)

No collection is complete without these quintessential Australian oils. A whiff will instantly remind you of a walk through the bush, but Aussie aroma aside, these oils are also just useful!

Eucalyptus Narrow Leaf Peppermint's refreshing menthol fragrance is great for clearing up nasal congestion. Remember cough lollies? This is the grown-up version. This essential oil also has the benefit of anti-bacterial and antiseptic properties, so diffusing when someone at home has a cold can help to clear air.

Lemon Myrtle has a delicious woody citrus aroma that can help perk up a dull mood. Its rich and fresh scent as well as its antibacterial properties make it ideal for DIY soap or home cleaning recipes.

You might recognise Tea Tree from the cosmetics aisle of the supermarket. That's because it's used in many products for its blemish-fighting and toning properties. It can also be used as a natural bug repellent and lice treatment! It has a sharp herby aroma that blends well with other oils – very useful for skincare blends.

Perfect for: Any Aussie scent or nature lover. Shop here. 
Christmas Trio
Frankincense (Boswellia carterii), Australian Christmas Blend, Traditional Christmas Blend

no better way to set the mood at Christmas than to infuse your home with a festive fragrance. Start with something subtle - Frankincense. Not only is it one of the spices gifted in the Christmas story, but its aroma is a blend of musty pine, citrus and spice that makes for a unique Christmas scent.

For something more classic, you can't go past our Traditional Christmas blend. Citrus, Cinnamon, Clove and Cedarwood are just some of the smells that you'll recognise from this blend – and when they all come together, you'll instantly feel engulfed in the warm joy of Christmas. Best enjoyed when daytime celebrations give into peaceful silent nights.

Australia has its own unique Christmas style, and we celebrate that with our Australian Christmas blend. Eucalyptus, Rosalina, Sandalwood and Pink Peppercorn come together for a fragrance that is sunny, cheerful and warm - all the things we want for an Australian Christmas celebration.

Perfect for: Your Yule-obsessed friend that decorates in November – or anyone at Christmas! Shop here. 
Inspire Trio
Bright Light Blend, Liaisons Blend, Force Blend


If you're in the wrong kind of funk, the Inspire Trio is just what you need. Bright Light Blend is perfect for invigorating long days (or nights) with an energy boost. A drop of this perky blend on your collar or sleeve will help to keep energy levels and spirits up.

If you need a serious dose of strength, use our Force Blend to help you push past tough limits. This complex blend is exactly what you want in your corner when life gets tough but you need to keep on keeping on.

To inspire a little love in the bedroom, diffuse our Liaisons Blend. The aphrodisiac effect of Ylang Ylang is balanced with soft Orange and Rose Geranium to create a sensual mood. If you're not partnered up, this is the perfect blend to inspire confident sensuality and make you feel irresistible.

Perfect for: Anyone feeling stuck and in need of a push in a positive direction. Shop here.