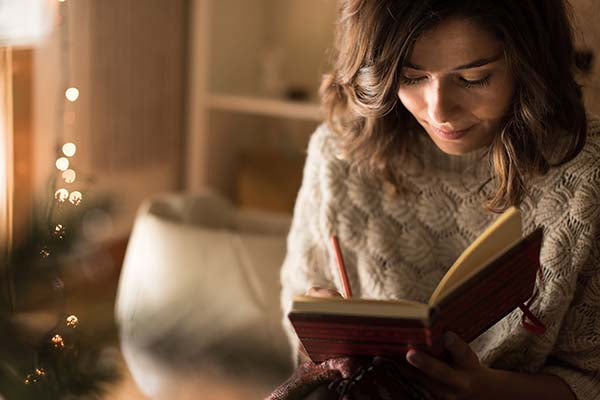 Why an early end-of-year reflection is the best gift
Somehow, we've arrived at mid-December, which means Christmas and New Year are just around the corner. At the tail end of a whirlwind year, we think that one of the best things to do is reflect.

For most people, this is a new year activity, but we think that reflecting before the festive season could be better. It allows you to have a bit of space to be present and enjoy the merry revelry without the weight of the year on your shoulders. It's also a wonderful way to add a pep-in your step by celebrating all the good that you did this year!
How to look back
How you look back on your year will depend on what mindfulness practices you already have. If you meditate, you might dedicate a meditation to this exercise; if you journal, you might want to write it out, or it might be more helpful to talk your reflection through with someone you trust. The point is that you take the time to stop and meaningfully look back on your year.

If self-reflection is a new thing for you, it might be helpful to put pen to paper with some questions to prompt your thinking. Unless you're very good at meditating, it can be hard to stop your thoughts from swirling in your head for long enough that you can understand them. Writing (be it in a notebook, your phone or computer) is a great way to gather your thoughts because it takes time and gives you a chance to take your thoughts out of your head and organise them in front of you.

The most important thing is that you take it slow, answer with honesty and reflect without shame – this is about learning and celebrating your effort.

Some questions that you might want to reflect on:
1. What are your biggest wins of the year? What made you proud?
2. How did you take care of yourself this year? What did you learn about your needs?
3. How did you help your friends and family this year? What relationships did you cultivate?
4. What changes (big or small) did you make to help the environment? What do you want to do more of? Remember – all the small actions add up, even expanding your awareness is action. It all makes an impact.
5. What goals did you set for yourself this year and what actions did you take to get you closer to achieving them? Were there any barriers to achieving your goals? Are your goals still meaningful?
6. What were some of the biggest challenges this year? How did you overcome them, how are you working on them and what did you learn from them?
7. What new routines, rituals, habits, or changes did you discover or cultivate this year that you want to take into the next? Conversely, what do you want to leave behind?
8. Who/what helped get you through this year? Who did you help get through this year?
9. How did you surprise yourself this year?
10. What are you most grateful for?
Celebrate wins and learn from loss
It's easy (and common) to be overly critical and focus only on the things you could do better. It's good to acknowledge where we might feel like we've fallen short so that we can learn from it. Even feeling the emotions serves as a helpful reminder of how much a goal means to us. Dwelling on it in excess can hold us back whereas trying to understand why we didn't get there can help us make positive changes.
Remember to rest
It will be tempting to spring right into action and start planning for 2022 after spending some time reflecting on the past 12 months, but we'd really encourage taking some time to pause. Looking back before the year's end isn't a call to start the next year early – it's a chance to unload, slow down, rest and take a break before the new year.

If you feel compelled to take some sort of forward action after your moment of self-reflection, write a list of goals or wishes for your future self to come back to in the new year after you've had a chance to rest and refresh.

If there was ever a time to unburden ourselves with constant forward-thinking – it's now. We can never be certain of what the future holds, but we can support ourselves by taking rest and energising ourselves by celebrating all the wins. Every little bit counts.
We Win Together
If there is an example of small cumulative actions making a big impact, it's with the earthYARD community! Our intentions at earthYARD are to do all we can to help our environment and the industry. We're so proud to have had a stellar year for package recycling with the returns program; to be able to give to community charities and support local farmers and producers. But none of that would be possible without earthYARDians choosing to support these initiatives. Your little wins help our little wins – thank you!

We hope your moment of reflection helps you to see the light in yourself and that being present in the festive season helps you shine brighter. May your holidays be merry and bright!

PS. earthYARD will be closed from December 22nd to January 10th 2022 for a much-needed Ho Ho Holiday.