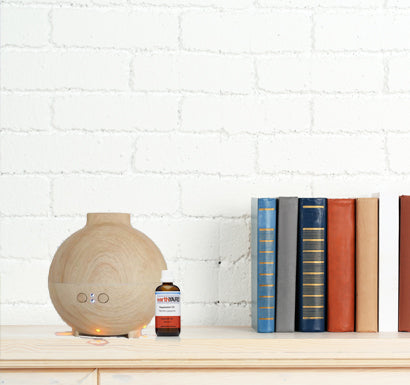 Why Diffuse
To diffuse or to burn. The buzz out there is that diffusing is the new burning and people are just going bonkers for these ultrasonic beauties.
There are so many ways to use essential oils from direct to chakra application, burning them, wearing them, reed diffusing them, room spraying them, atomizing them, you name it, we've done it. But the method we've stuck to is diffusing. 
What is diffusing?
Diffusing is the best way (we think) to get all the benefits of the essential oil. Diffusers use ultra-sonic technology to atomize the essential oil in water and pushes the cold steam into the room. Diffusing allows us to inhale the aromas, activating the limbic system (biology lesson alert) which is the emotional centre of the brain. Remember those times when you smell something and an emotion is triggered, freshly cut grass, baking bread, rain, essential oil inhalation is a bit like that. Emotional triggers are learned and essential oils work a bit the same way.
Diffuse Lavender and think calm thoughts, you can learn calm and trigger it by diffusing lavender. 
This is the only reason to diffuse. Here's a small list:
Remove odours, promote sleep, purify the air, create comfort, reduce cravings, support the immune system, boost memory recall, set a mood, de-stress, heal depression. It's just a small list.
Why no burn?
Heating oils can create volatility. This can dramatically change the aroma but also can burn off some of the important natural compositional constituents that carry the benefits that we use oils for. For example (Science time):
One of the constituents of Eucalyptus oil is Cineole. Cineole is known for it's anti-spasmodic benefits. It also burns off quickly and at lower temperatures than some of the other constituents in the oil. By applying direct heat to the oil the heavier volatile's are turned into resin which is left in the dish and don't make it into the air.
It was thought that this could be fixed by adding water, but the end result hardly changed.
A diffuser atomizes the enter oil.
Okay, we've sold you now how do you care for your diffuser? Simples. Use a rubbing alcohol to or a white vinegar to wipe out the inside of the diffuser which will neutralise any residual odours. That's it.
Is it safe?
It sure is. Provided you're putting good quality pure oils into your diffuser no nasty chemicals will be diffused.
What about for pets?
There are studies and reports out there that say some oils are not good for cats and dogs. Just be mindful that animals have a much better sense of smell and less is more. If your pet starts to react to the oils you are diffusing it's best to remove them form the room. Most oils are fine but best to do some research before you diffuse at home.
Cats are particularly sensitive to polyphenolic compounds which can be found in: cinnamon, tea tree, thyme, birch, wintergreen, clove, and oregano.
There have been reports of dogs being irritated by anise, clove, garlic, horseradish, juniper, thyme, wintergreen, and yarrow. 
Use common sense and dilute the oil before diffusing and monitor your pet's reactions.
We've tried and tested many diffusers and have settled on one that ticks all our boxes:
1) Auto shut off. When the water level reaches below a certain point the diffuser will automatically turn off.
2) Run time. On full speed you can get 6 hours straight run time out of our diffusers. At low speed we have reports of up to 22 hours.
3) No neon. Need we say more.
4) Quietness. You can hardly hear it. No whirring or hissing.
5) Decor appeal. Looks pretty smart on the shelf, by the sink or under a plant.
6) Affordability. No need to pay through the nose for what we believe should be in every home.
Our diffusers are $59.95 and come in two beautiful wood grain finishes. Spend over $250 with us you get one free. Now that's a pretty nifty Christmas gift.
Bec
x