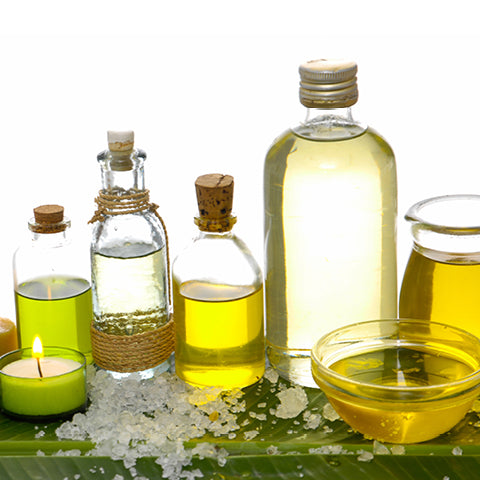 Sweet Almond and Macadamia Oil
Carrier oils, basically they carry any essential oil, the proteins and the nutrients into the skin. Hence why these oils are so widely used in aromatherapy and massage. Not only are they incredibly nourishing and versatile as ingredients on their own they are the foundations of natural skincare and cosmetics around the world.
How are oils made?
Most carrier oils are cold-pressed. Some heat may be applied to the uncooked nut but as this is generally kept below 60°C to ensure minimal change to the natural oil, it is considered a cold-press.
The concept of cold-pressing nuts has been around since the early 19th century although some believe there are examples of beam presses going back 400 years.
The heat that is generated up to 60°C as mentioned above occurs from the friction created during the press.
The friction and the pressing strips the oil out of the nut which is then filtered off to give you the 100% pure oil.
Sweet Almond (Prunus amygdalis var. dulcis).


Almond oil is one of the best natural oils for hair and skin care. Packed full of nutrients like Vitamin E and potassium as well as fatty acids such as linoleic acid which works to reduce the appearance of cellulite but also deeply moisturise the skin.
Using Sweet Almond Oil in place of cosmetics that boast the same beneficial claims is comparable if not even better and unless you have a nut allergy, there are no side effects. Almond oil is useful in relieving the itching caused by eczema, psoriasis, dermatitis and all cases of dry scaly skin. It absorbs slowly and is non-irritating.
Sweet Almond can also reduce the appearance of dark circles under the eyes, act against wrinkles and ageing, and can also work as a natural make-up remover (not that you need makeup!).
We love Sweet Almond oil that much that we even planted our own trees even just to look at the beautiful blossoms.
Macadamia (Macadamia integrifolia).


Have you ever been to or driven past a Macadamia plantation? Every time I visit the far north coast of New South Wales I'm taken by the plantations that dot the Tweed Valleys inland. I imagine myself a bit like Alice in Wonderland frolicking/running through the endless columns of beautiful lush arching foliage.
As a kid I got the luxury of searching the floor under the canopies for lost nuts which I'd take home and spend hours cracking each shell, devouring the nut. Little did I know how much the little nuts would play a part in my life.
Macadamia is my go to. Rich is Omega 7 (palmitoleic acid) and also is very good at keeping you looking youthful and hydrated. Macadamia oil has been known to heal worn out skin especially after exposure to the sun or harsh winds.
Because Macadamia oil is a slower absorber it is a regular oil of choice for massage therapists which is one of the reasons why we've picked it for our Day Spa at Home Massage Gift Pack.
Luxury massages don't have to be so expensive. Nor should you have to wait weeks to get into your favourite therapist. To experience a quick fix at home and rejuvenate your partner/friend/family (or make them help you out), try our Christmas gift pack available for a limited time only for just $39 (worth $49). Add a few drops of Lavender for a calming and de-stressing massage or try Grapefruit for a refreshing and energising experience.