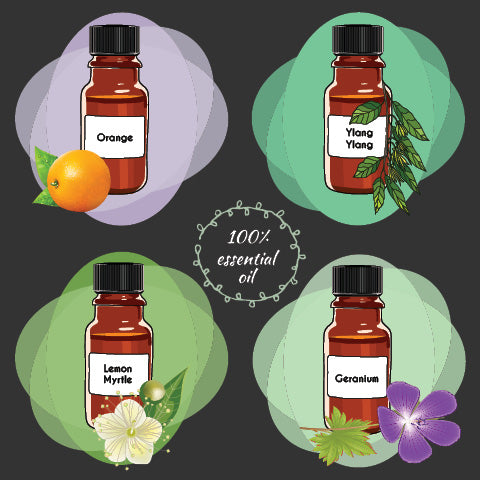 4 Seasons of Oil
We love oils. That's a bit obvious.
A lot of what we've been showing you lately has been a little more swayed towards the types of products that can be created when using oils as base ingredients (queue moisturisers, cleansers, scrubs, serums, soaps, beauty products in general). This week we want to touch on how essential oils can become a necessary companion to each season and the trials and tribulations we face over the course of a year.
Right now, as we come into the warmer months, with the festive season firing up, the work year beginning to take its toll on our minds and bodies, it's important to keep ourselves refreshed and focused. If you've ever worked in a large office, you will know all too well that by October the silly season has well and truly taken a hold over many of your colleagues. Lunches become longer, productivity drops, and morning hangover cures frequent more than just Fridays. Well that was my experience anyway in my early twenties working for a mass media company in Sydney.
What I found was that it was becoming harder and harder to produce consistently good work at the end of the year. The year had flown and the company I had worked for had gone through some major changes. I was exhausted. But I wasn't prepared to stop. I knew I had to put on a brave face, attend after work events and then pull my sorry backside into my swivel chair early the next morning to do it all again.
I had an aromatherapist prescribe me a bottle of Ylang Ylang Complete oil to boost my immunity levels (which were flailing at best) and to work as an anti-depressant to drive away the feelings of anxiety and stress I had built up as a direct result of my lower productivity levels. It recharged me, energised me and kept me going until Christmas Eve when I packed up my desk for a two-week work year detox.
Picture this: It's now January, you've made it through the Christmas mayhem, you've eaten far too much, sunned yourself a little bit more than you'd like and maybe a wine too many on New Year's Eve. It time to centre yourself, look ahead and start making those small changes that will help to forge new pathways.
To make smart decisions about the year ahead you need a pure mind and body. Orange Oil has been used as a diuretic to help your body get rid of any excess toxins and gas. Did you know Orange Oil also has been said to promote urination which is of course is an important bodily function in detoxification. Like a car needs a service every now and again to ensure it's in tip top working condition, so does a body. Orange Oil can tone up every system in the body. To achieve this, we recommend diffusing Orange Oil in our Orb Diffusers, adding a drop or two to laundry for a wearable tonic.
Autumn in Australia is a beautiful time of year and has always been a personal favourite of mine. It's about early April when you can smell the air start to turn, it smells of change. If you've been working hard at your goals, it's about now that you can start to see some results (depending on the goal). Things are changing, leaves are bursting with colour and it's a more serious time of year.
To compliment the freshening air outside, Lemon Myrtle is a beautiful, rich, smooth aroma that brings the outside in. Lemon Myrtle is an anti-septic, some believe even better than Tea Tree Oil, so we recommend diffusing this essential oil towards the end of Autumn when your bodies are at risk of typical change of season ailments.
Fun science fact:
In 2004 it was confirmed that the anti-viral properties of Lemon Myrtle were critical in reducing skin lesions in children at a 10% solution. Just something to bring up at the dinner table.
Burke, Briant E., Baillie, Jon-Eric and Olson, Richard D. Essential oil of Australian lemon myrtle (Backhousia citriodora) in the treatment of molluscum contagiosum in children. Biomedicine & Pharmacotherapy, Vol. 58, Issue 4, May 2004, pages 245-247.
Finally, we come to Winter. I don't know about you, but as much as I try to embrace Winter, I find it desolate, harsh and dull. I've been very lucky in my life with Winter colds and flus. I seem to be able to avoid them somehow. I put it down to protection of oneself from the elements. I try to avoid going out if it's miserable or windy, but there's probably some truth in that Winter is a great time to rug up and binge on Netflix.
If you do find yourself caught out in the cold and you've got skin like mine you'll notice when you look in the mirror that your face is all wind chaffed, red and sore. I know I said I was going to avoid skin care in this post, but Geranium oil is just a wonder with calming redness and soothing skin.
Also an anti-depressant, this feminine floral oil is great for increasing circulation, which if you've been as sloth like in winter's past as I have you'll understand that there is always a need to increase circulation.
Geranium oil is queen for hormonal and emotional balance and Winter is the best time to work on your inner goddesses ready to take on Spring again. Word of warning! Geranium oil is an emmenagogue which stimulates menstrual flow. Avoid when pregnant.
All four of these oils have been our favourites for getting us through the changing seasons and it's a perfect selection for newcomers to the essential oil world.

Give the gift of courage, strength, energy and balance this Christmas with our 4 Seasons Gift Pack. Each pack comes with 1x 25ml bottle each of Madagascan Ylang Ylang Complete, Australian Cold Pressed Orange Oil, Australian Lemon Myrtle Oil and Egyptian Geranium Oil for just $51 (Save $10).