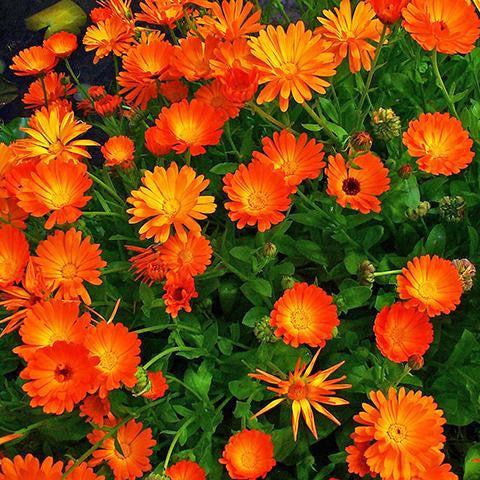 Calendula Infused in Olive Oil
Sale
Sale
Original price
$11.00
-
Original price
$61.00
Oleo Europaea and Calendula officinalis
Calendula is a popular ingredient in skincare for its suitability to most skin types. We infuse this skin-safe botanical in-house into 100% pure Extra Virgin Olive Oil. The result is an oil-soluble solution that can be used in cosmetic formulas.
Calendula is high in vitamin C and may be restorative for the skin. It may also have an anti-inflammatory effect, which can help to soothe sores and skin irritations. Olive Oil is a champion carrier oil that may have antibacterial and anti-ageing effects making it perfect for use on skin and hair, especially during winter. It blends well with essential oils and works well as a massage oil base.
This infusion is suitable for direct to skin application, so you can use as much or as little as you like in formulas. We recommend adding to creams and lotions as well as facial oils and serums.

Calendula is also available infused in Jojoba Oil or Sunflower Oil. For a water-soluble Calendula, see also our Hydro Glyceric Extract.

Calendula flowers sourced from Dainggatti land, Australia are infused into Olive Oil from plants grown on Kureinji land, Australia that have undergone extensive testing to ensure their high quality.

Recommended for massage, skin care and cosmetic applications.

Care Instructions: Not recommended for ingestion.

Calendula infused in Olive Oil may be nourishing, soothing, anti-bacterial and anti-inflammatory.