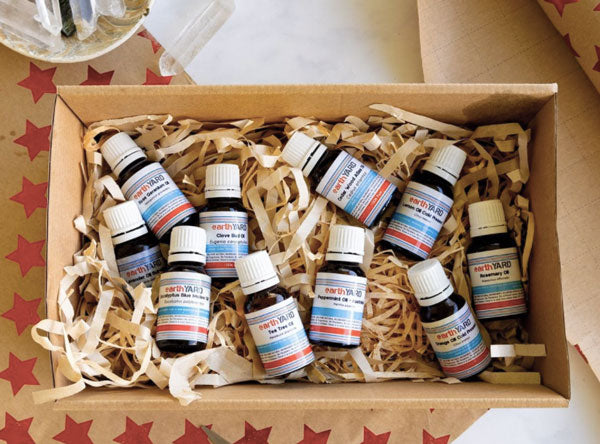 12 Oils of Christmas
If your Christmas list includes an aromatherapy aficionado, natural beauty lover, DIY homemaker or diffuser devotee, essential oils are, well, essential. There's an oil for everyone this Christmas, and we've got 12 great ideas to make Christmas shopping easier.
Lavender Essential Oil
Our Australian Lavender Essential Oil is a must for any essential oil collection. Its flowery aroma is a classic scent that is suitable for perfumes, soaps, fresheners and natural beauty products. Lavender is also widely used in aromatherapy for promoting rest and relaxation.
The perfect gift for: anyone… Lavender is easy to use which makes it easy to gift.
Starter Gift Set
One of the best parts of playing with essential oils is mixing, matching and blending. Our Starter Gift Set features five Australian essential oils and five premium essential oils from around the world. It includes citrus oils that are perfect for the home, healing oils such as Tea Tree for wellbeing, and delicious oils like Geranium and Cedarwood for natural fragrance fun.
The perfect gift for: anyone that wants to make a start with essential oils, or someone that could use a top-up of their collection.
Peppermint Essential Oil
Australian Peppermint Essential Oil is cooling, refreshing and has a sweet-smelling aroma. It may boost energy, soothe sore muscles and relieve headaches when applied to temples. It's a hard-working oil that does wonders for a tired body.
The perfect gift for: workaholics.
Lemon Cold Pressed Essential Oil
For a sweet, citrusy scent that is as handy around the home as it is a mood, you can't go past Lemon. Our Australian Lemon Cold Pressed Essential Oil can be used to uplift and boost energy or used in homemade cleaning recipes. It may have purifying properties and works well as a natural deodoriser.
The perfect gift for: natural homemakers that want to dabble in DIY cleaning products.
Bright Light Blend
Our Bright Light Blend harnesses the uplifting aromas of Cedarwood Atlas, Patchouli, Ylang Ylang, Grapefruit, Frankincense, Sandalwood, Orange and Lime. This perky blend is invigorating, particularly during party season. It's the perfect blend to diffuse when you're in need of extra pep.
The perfect gift for: a social butterfly that wants to make the most of silly season.
Warrior Blend
Life can be tough. And in tough times we need all the help we can get. Our Warrior Blend is designed to boost calm and inspire by bringing you closer to your inner-warrior. It's the perfect balance of earth tones and citrus notes that will leave you feeling centred and strong when diffused.
The perfect gift for: someone that's had a really tough 2020.
Yuzu Essential Oil
Our Cold Pressed Yuzu Essential Oil from Japan is taken from the Green Mandarin tree. It's been used in Japanese culture for centuries for its refreshing scent and stimulating effects. Its fragrance can be likened to mandarin and grapefruit and blends well with other citrus and spice oils.
The perfect gift for: the essential oil collector that would appreciate something exotic.
Dunes Blend 
Our Dunes Blend harnesses the power of soothing Lavender and Chamomile to create a relaxing blend that will help you unwind. It's infused with Mandarin, Lemon, Bergamot, Cedarwood and Frankincense to create an enchanting aroma that will envelop you in calm.
The perfect gift for: a yogis or anyone that loves a dreamy ritual.
Chia Seed Oil
Our Australian Chia Seed Oil is a luscious carrier oil that can be used to dilute essential oils or as-is to enrich hair and skin. Chia Seed Oil is the richest source of plant-derived alpha-linolenic acid (ALA) and an excellent source of plant-based Omega-3. Both ingredients may help skin stay hydrated and protected from environmental stressors.
The perfect gift for: a natural beauty fiend.
Exotic Trio
There's nothing like the curious scent of Frankincense, Cinnamon Bark or Ylang Ylang to transport you to a far-flung corner of the planet. This Exotic Essential Oil Trio is a wonderful mix of warming, fruity and woody aromas and will make a great varied addition to any essential oil collection. 
The perfect gift for: travellers and adventurous types.
Rose Absolute in Jojoba
Few scents are more luscious and indulgent as rose. It instantly evokes love, romance and elegance, and this dilution of Rose Absolute into Jojoba makes it enriching for your skin too. It's a wonderful natural perfume alternative that can be applied neatly to skin. And it smells and feels as luxurious as it sounds.
The perfect gift for: someone that has everything!
Ylang Ylang Essential Oil
Our Complete Grade Ylang Ylang is another popular essential oil for its delightful scent and therapeutic properties. Its exotic, sweet floral scent blends well with a wide range of essential oils and may alleviate anxiety. This makes it popular in perfumery and DIY beauty projects.
The perfect gift for: an amateur perfumer!
Dreamcatcher Blend
Our Dreamcatcher Blend is infused with the perfect combination of grounding wood and uplifting citrus. The result is a playful scent that brings out your inner optimist. It's the perfect blend to start a fresh new day or year with.
The perfect gift for: Someone who needs to feel optimistic about the future!
Now that you've got your gifts ready to go, get in the mood for the holiday season by diffusing one (or both) of our Christmas blends. For those that can't get enough of a summer Christmas, the Australian Christmas Blend is perfect. We've got our own unique Christmas style and we celebrate it with this brilliant blend of aromas.
If you're dreaming of a white Christmas, diffuse our Traditional Christmas Blend to be transported to a frosty northern Christmas. Each blend is sure to get you in the mood for a warm festive season.