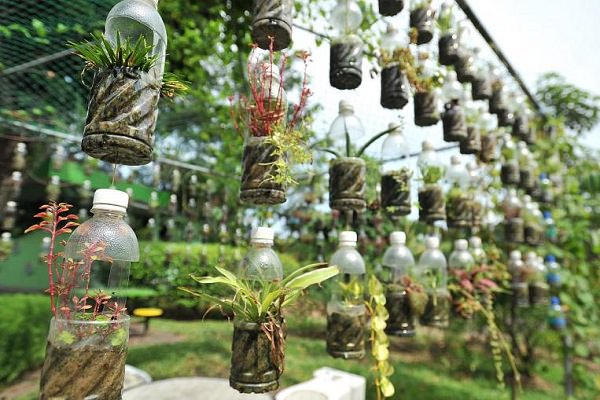 Upcycle your plastics
To us, reducing our plastic waste is super important and forms a fairly large part of our sustainability plan which you can read about in full here.
One of the unfortunate circumstances of our industry is that to date there has been little progress in the development of bulk containers suitable for carrying essential oils and carrier oils. The volatile compounds that exist in essential oils can react with certain plastics and compromise the integrity of the oil and the stability of the packaging itself. This is why we choose to use glass and aluminium for essential oil transport. 
For carrier oils, extracts, water and bases the plastic we need to use is a PET which is the best in terms of strength and durability as well as providing a safe house for the short to long term storage of our products.
We understand that as a country our recycling facilities are just not able to process the amount of plastic we consume and new initiatives are required to help reduce the amount of plastic ending up in landfill and our very important eco-systems.
So what is earthYARD doing about it?
We've got a new program in place where you can return your plastic and aluminium vessels for refills. We will clean and recondition these ready for re-use. Once they reach a point where they can no longer be reconditioned we will send these off to a recycling plant that specifically regenerates these into new bottles for us to use, completing the circle. Read more about that program here.
If you are looking for cool and interesting ideas about what to do with your used containers instead of recycling and reusing we've compiled a list of our favourite initiatives that we've seen online for you.
DIY BIRD FEEDER



Cut a small hole in the side - large enough that seed is accessible but small enough to stop the seed from flowing out in the wind. Punch some drainage holes in the bottle. Fill with seed and hang with wire from a tree or from your washing line.
Source: RSPB 

MAKE A CUTE PIGGY BANK



This is a great one to do with kids for an afternoon craft project. For instructions see here.
Source: Our Kid Things


GARDEN WATERING CONTAINERS



This idea is great for gardens that need daily watering when you want to go away for a night or two. Click here for instructions.
Source: SF Gate 


HANGING PLANTERS/VERTICAL GARDENS



Think of all the cool creative ways you could do this. From a mini herb and vegetable garden in your courtyard or kitchen, to a full wall artistic version full of succulents or bee attracting florals.
Source: Garden Tabs


DOGGY TREATS GAME


Keep your pooch entertained for hours with this spin and drop treats game. Watch the how-to video here.
Source: Goods Home Design


DIY BIN


Avoid more plastic buying and make your own bin out of plastic bottles.
Source: Instructables


DIY RAIN GAUGE



Keep track of changing weather with this quick rain gauge. 
Source: The Imagination Tree


THE BOTTLE BOAT



Okay this one might be a little stretch, but it just goes to prove that with a little elbow grease and a touch of imagination you can do anything.
SOURCE: BBC


MAGAZINE/NEWSPAPER HOLDER



Leave the bottles natural or paint them funky colours to match your decor. This is a super quick and easy idea to use up some old bottles.
Source: Lushome