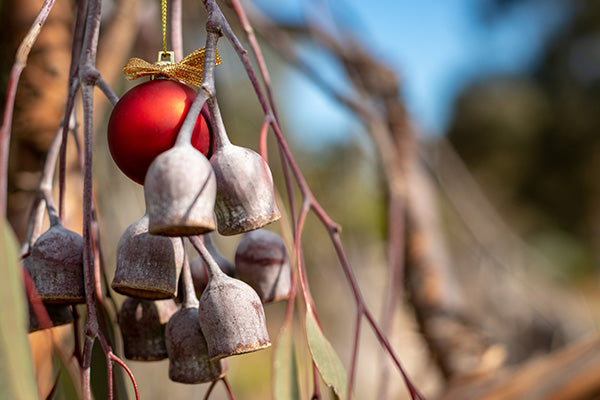 Homegrown Holiday Gift Ideas
Looking to shop and gift local this Christmas? We're lucky to have a bounty of botanicals produced here in Australia. Eucalyptus, Tea Tree, zesty citrus and herb essential oils are just some of the few that would make wonderful gifts for at-home aromatherapists, creative DIY-ers or anyone that loves to do things naturally. By gifting local, we're also helping to brighten the season for our producers.

We've rounded up our favourite home-grown essential oils that would make beautiful gifts, plus share some tips for how to make your pressie extra special.
Make it a Triple With a Trio Gift Set
Our trios are designed to help make building essential oil collections easy and economical, plus, who doesn't love a chance to sample a selection of oils?

Aussie Trio
Our Aussie Trio celebrates the three quintessential Aussie aromas – Eucalyptus, Lemon Myrtle and Tea Tree.

Eucalyptus Narrow Leaf Peppermint Oil (also known as Eucalyptus Australiana) has a refreshing peppermint menthol eucalyptus aroma that's soft, slightly sweet and warming. It's harvested and distilled on the New South Wales south coast by Native Oils Australia from plants grown on Yuin country. This bright and nostalgic scent is a must-have for any collection.

Lemon Myrtle Oil is one of our favourite essential oils for its soothing, uplifting and peaceful scent. Its rich, herby and lemon aroma blends well with other Australian essential oils. Our Lemon Myrtle Oil is produced on a small farm on the Mid North Coast of New South Wales from plants grown on Dainggatti, Gumbainnggir and Bundjalung country.

Tea Tree Oil is another must-have. This popular Australian oil is widely used as a treatment for skin irritations, colds and coughs, acne, skin toning, bug sprays, lice treatments and more. It has a crisp, strong, camphorous and woody scent that blends well with other Australian oils. Our high-quality Tea Tree Oil is produced from plants grown in Bundjalung country, New South Wales.
Shop Aussie Trio

Aussie Citrus Trio

To give the gift of an uplifted spirit, try our cheery Australian Citrus Trio Gift Set.

Our cold-pressed Mandarin Oil has the sweetest aroma of the citrus bunch. A whiff of bright Mandarin will inspire a sense of playfulness and delight. It blends well with other citrus and spicy oils and is grown on Waka Waka Country, Queensland.

Few scents are as zesty and fresh as cold-pressed Lemon Oil. This classic sweet, crisp and clean essential oil has excellent cleansing and uplifting properties. Its lively scent is also great for helping to energise a stale mood! Our Lemon oil is produced in Meru country, South Australia.

Cold-pressed Lime Oil rounds this trio off, with its tart, sweet and fresh scent. This versatile oil is a wonderful alternative to lemon, especially as a natural 'clean' fragrance in DIY cleansers. Lime oil is stimulating and lively and would make a wonderful addition to any collection. Lime Oil is extracted from the peel of fruit grown on Yidinjdji country, Queensland.
Shop Aussie Citrus Trio

Aussie Herb Trio


Gift a pinch of culinary fresh aroma with our Aussie Herb Trio.

Rosemary Oil's punchy, herbaceous scent is stimulating and energising and may have a rejuvenating effect on hair. Rosemary pairs well with citrus, spice and woody oils and adds a fresh depth to blends. It's extracted from plants grown on Bindjali and Ngarrindjeri country, South Australia.

In Greek, oregano translates to 'Mountain of Joy' and Oregano Oil with its soothing scent is sure to bring just that. Its fragrance is warm, aromatic and sharp that has a calming and relaxing effect. It is extracted from plants grown on Bindjali and Ngarrindjeri country, South Australia

Sage Oil is a mainstay in many collections for its ability to promote balance and quiet – just what you need for a silent night of rest during the silly season. Its spicy, herbal aroma is welcoming to the senses. Our Sage Oil is made from plants grown on Bindjali and Ngarrindjeri country, South Australia
Make it Merry and Bright with Aussie Blends
Australian Christmas Blend

This blend is sunny Christmas nostalgia at its best. While most dream of a White Christmas, this blend is for those that adore summer, sun and Santa in shorts. We've got our own unique Christmas style and it's celebrated with the fresh tones and brilliant aromas in our Australian Christmas Blend.

Aussie favourites like Eucalyptus and Rosalina blended with luscious Sandalwood and Pink Peppercorn and will instantly remind you of happy, hot and laid-back celebrations at home. Is there anything better?
Shop Australian Christmas Blend

Home is Here Blend


We'd be remiss if we left our Home is Here blend out our local list. A mix of Eucalyptus Broadleaf Peppermint, Honey Myrtle, Rosalina and Jasmine create a warming aroma that celebrates the scents of Australia. But the heroes in this blend (aromatically and symbolically) are White Cypress and Buddha Wood.

White Cypress is harvested by an indigenous community in Wiradjuri country. The White Cypress harvest is part of a regeneration project for the endangered Pink Wormtail Lizard. White Cypress is actually classified as invasive – and you can tell – it grows quick and uses a lot of the soil's nutrients. By stripping out selected trees, sunlight can reach the bushland floor and encourage plant and insect species that the lizard thrives upon to grow. Further, the spent biomass of the White Cypress Wood after steam distillation is currently being tested as a potential product to develop commercial building panels.

Buddha Wood oil is a seldom celebrated Australian oil. It's taken from a sturdy native Australian shrub and has a wonderful woody and whiskey like aroma that adds a unique scent to blends.

With bushy Eucalyptus notes, smokey forest wood scents and a hint of floral, this is a fantastic choice for a gift that celebrates all things Australian.
Made With Love!
If you're privy to a bit of DIY, why not make something from the heart by pairing the essential oil gifts mentioned above with a natural skin or hair care base.

Our bases are made with natural, nourishing ingredients and without GMO, paraben or sulfates. They are fragrance-free and ideal for use on sensitive skin or for customisation. We leave lots of room for you to add your own ingredients which can include up to 3% essential oils of your choice.

Make your creation truly bespoke by adding a few drops of your giftee's favourite scent, or allow them to embrace your chosen essential oil by gifting a bottle with your DIY gift. Or, if you have someone on your list that would love to DIY their own, gift a base and an oil so they can get creative themselves.

There's so much gorgeous Australian produce that we can celebrate this Christmas. We hope you feel inspired to shop, gift and celebrate local!